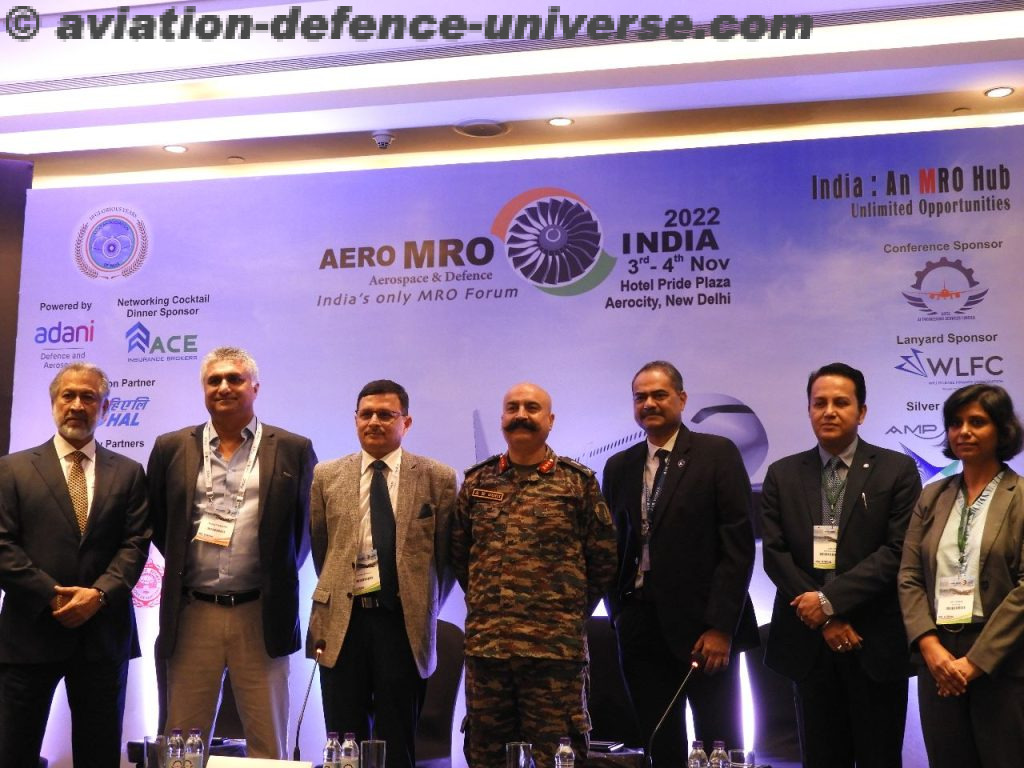 Indian Army's DG Aviation Corps puts forth needs & solutions
By Sangeeta Saxena
New Delhi. 05 November 2022. Mastering military maintenance is not only the need of the hour for the MROs but also a challenge they are learning to meet well. This is true for both Indian MROs and the ones overseas. Since Independence India has spent  tens of thousands of crores of Government money in creation of an infrastructure for manufacturing and supporting . The three defence forces  together operate more than  1,800 aircraft.
Till recently the annual revenue of Indian military Maintenance, Repair and Overhaul (MRO) services was nearly US$6 billion. To top it HAL has an annual turnover of  nearly INR 20,000 crore in which 45% INR 9000 crore was courtesy it's MRO activity as per a KPMG report. Another statistics which mind boggles is that Base Repair Depots (BRDs) in the country are envisaged to be conducting at least US$1 billion worth MRO. So are we reaching the ultimate goal of atmanirbharta in defence MRO? And if so then why this brainstorming? Well this is because public sector cannot keep all slices of the cake for itself and leave some crumbs for the private sector. Also another major point is that lets do it 100% in India if we can. Why send the military aircraft to MROs abroad for maintenance?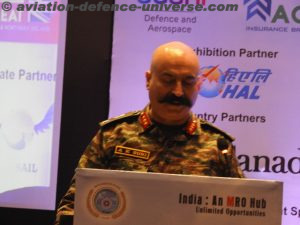 Day2 at Aero MRO was dedicated to defence MROs and the need of military air assets to fulfil their requirements within the nation rather that sending them overseas to the manufacturer. The session was moderated by Bharat Malkani, President, MRO Association of India  and  Lt. Gen. Ajay Kumar Suri, Director General Army Aviation, Indian Army  was the Chief Guest. In his inaugural address he appreciated the growth in the military MRO sector and agreed that the symbiotic relationship could help in creating this market with both user and service supplier perspectives in mind. Adani Aerospace & Defence was represented by Lt.General S K Upadhya in the session who put forth a platform for the industry to let the user feel its needs could be met domestically and at cheaper rates.
"The Indian Army has been able to establish MRO hubs in collaboration with Hindustan Aeronautics Limited (HAL) in the army aviation today. We have these hubs, while they are not fully functional but they are there and we need to boost them up. How we are looking at MRO hubs is that anyone who wants to set-up shop can come and set-up shop over there. It could be as small a thing as Night Vision Goggles (NVG), it could the repair of the guns that we carry on our helicopters, it could be as large as going to the MRO of engines, ground support equipment, you name it, and we will provide the entire the space to you in these MRO hubs, whether it is hangarage, or whether it is the space that is required. All we need is people who get into collaboration with perhaps HAL or with AAC directly, and you can set up small things, so that in times to come we can establish MRO hubs, not just the ones we have, but even more. If we were to have an MRO hub in every region then that is the answer as far as military aviation is confirmed," informed Lt. General AK Suri.
Bharat Malkani, President MRO Association of India also moderated a session on Progress of Govt's Vision Of Civil-Military Convergence and partnerships In MRO with Air Cdme DB Murali- GMR Aero Technic , Mangesh Karyakarte, Chief Sales Officer, Air Works Group  and Brigadier (Retd) Amit Mukherjee- CEO L3-Com.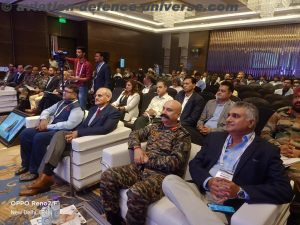 Maximizing asset availability without increasing costs is the priority for armed forces thereby increasing the efficiency and the effectiveness of their maintenance, repair, and overhaul (MRO) function. Focus should be not only on MRO activities but should also be on indigenization of a wide range of equipment and spares by setting up manufacturing facilities under the 'Make in India' programme to undertake licenced production of regularly required spares. It will lessen dependency on foreign OEMs and lessen the turn around time too.
The General also reiterated , " today, we have helicopters which we have to send to Banglore from a place like Leh. If I have to get it overhauled for a major servicing, it flies down from there goes to bangalore, spends a year there! Gets overhauled and then flies back. But, if we were to have these facilities regionally based, for instance somewhere up north in Jammu or Srinagar and those people are ready to do  it in two to three months, that will be an advantage that will accrue to all of us."
Modern defense systems integrate a complex combination of electronic systems, including defense, attack and security systems, and use advanced materials like composite and stealth materials. To be maintained these need expensive spare parts,  highly specific tools and infrastructure that are often very expensive. Therefore, technology, in relation to the cost of inputs, influences the total cost of MRO. Electronic systems are more and more intensive in modern defense systems. The maintenance of processing capacity in electronic defense systems is costly, especially in the diagnosis stage of MRO process. Moreover, they need sophisticated software, which maintenance represents a larger and larger share in the total cost of defense systems.  40-60% of the cost of a modern fighter is represented by its on-board avionic package and embedded software .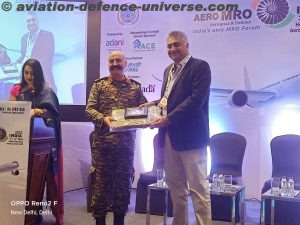 Composite materials that represent a more and more important share of airframes also give increased range, stealth, stability and payload. For instance, the share of composite components in combat aircraft has risen from 7% for a Mirage 2000 to 26% for the Rafale. To be maintained, defense systems with composites often involve very specific and costly assets.
Finally workforce is an important element of the increasing cost of MRO. Maintaining more and more complex military systems require advanced MRO skills, which often are very costly. MRO centers need to hire highly specialized personnel, eventually competing with commercial companies. In addition, modern defense systems are more complex than former generations and, in such systems the length and frequency of MRO operations are likely correlated with complexity and cost.
Lastly a session on MRO – New Avenues was conducted by  Rear Admiral (Retd.) Srinivas Kanugoo with, Sharad Agarwal , CEO AIESL,  Manu Saxena, Vistara, Aviation College (training), Vipin Vohra, Chairman Continental and Advisor to MOCA on Cargo. Challenges Dharanidharan, Adani Defence (Military MRO), Hardik Someshwar, Senior Manager MRO Projects, Collins Aerospace, Nitin Deshpande , Bytsoft technologies (MRO Software) and  Aman Johri, CEO Jatayu Unmanned Technologies (Drone MROs).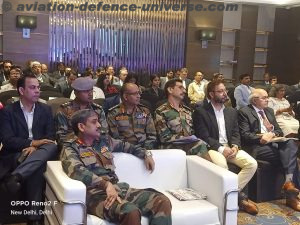 Public–private participation has been till now perhaps, the principal way in which the private sector—through financial investment, talent sharing,  management  skill  transfer  and  provision  of additional resources—can be pressed  into  service  for  furthering  the national security of a country. As the sector expands and private players get bigger, military maintenance can be an exclusive domain for them without having to share the cake with public sectors. This will need state-of-the-art infrastructure, updated technical knowhow and skilled manpower.
"We have a tremendous amount of trained manpower! There are large numbers of people who leave the services at 35-40 years of age. I am talking about both soldiers and officers, these people have extensively served in varied terrain during their time in the armed forces, they have the experitse, they have the knowledge. These are the people we could employ and that is how the MRO hubs and the entire gambit of MRO a sea of change in the years to come," reprised the DG Army Aviation.
This will require the force, DG Resettlement, Ministry of Skills Development, National Skills Development Council and Aerospace and Aviation Sector Skill Council (AASSC) for training and certification. The MRO industry can come forth and create a employment generation platform for the retiring skilled manpower of the forces.
Effectiveness of the armed forces depends on the timely availability of equipment, arms and ammunition, and their maintenance in battleworthy condition. These are precursors to  the sustainment management system (SMS) for military equipment which is a key determinant of the combat power of an army. Also the Indian Navy and Indian  Coast Guard in addition to Indian Air Force and Indian Army are major MRO customers and will have to be got into the ambit of the existing MRO ecosystem. In addition to air, land and marine assets, their components and engines,  weapons and equipment, all require regular 'maintenance, repair and overhaul' to ensure their combat readiness, so as to enable the defence forces to operate efficiently and cost-effectively. So MRO Association of India will need to look beyond IAF and Army Aviation Corps to make the event a far reaching platform for the MRO industry as a whole which at the moment has become synonymous with flying arms of the four forces.