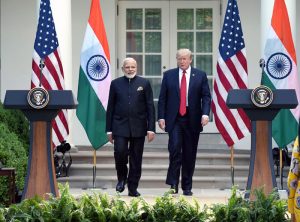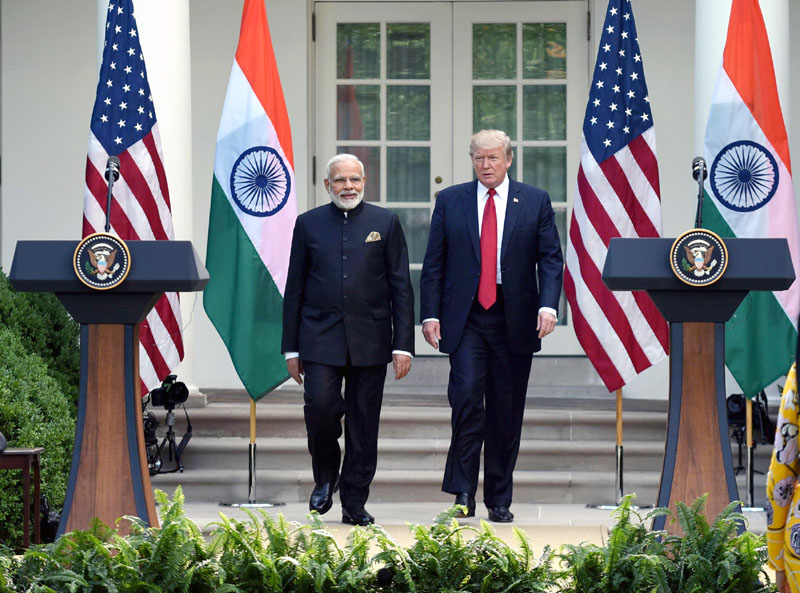 By Sangeeta Saxena
New Delhi. 23 February 2020. Count down to the most awaited visit of a Head of State to India has begun. Donald J. Trump, President of the United States, accompanied by First Lady Melania Trump, will be here tomorrow on a State Visit to India for two days which will also be the US President's first visit to India.
Though the Namaste Trump event at Ahmedabad may seem like the cynosure of world eyes but the most important on the agenda for the two leaders will still be defence and security. Global strategic partnership between India and the U.S. has been a continuous effort by both the nations and the relationship has further evolved under the leadership of Prime Minister Modi and President Trump, with significant progress in all areas including trade, defence, counter-terrorism, energy, coordination on regional and global issues as well as people-to-people ties. The visit will provide an opportunity for the two leaders to review progress in bilateral ties and further strengthen strategic partnership.
As far as the first question is concerned, there is a very strong cooperation between India and U.S. on the issue of counter terrorism and you must remember that we got unprecedented support from U.S. after the Pulwama attack and U.S. also provided great support to designate terrorists in Pakistan. We hope that this cooperation will further strengthen and as I said there will be discussions on regional issues, and these are all very important issues for both the countries, so there could be talks on counter-terrorism.
MEA spokesperson Raveesh Kumar in his weekly briefing stated that India and U.S. had very strong counter-terrorism cooperation all these years and this was very much evident in the post-Pulwama phase where U.S. expressed its very strong support. U.S. has also supported us in designating terrorists operating out of Pakistan and such cooperation will continue. There will be some discussion on regional situation as well.
He added, " if you look at the intensity of ministry level exchanges, I think that is unprecedented. India – U.S., the 2+2 Dialogue which took place in December last year, very successful outcome rich meeting. Our defence relations have expanded significantly and you are familiar with the two agreements which and big agreements like LEMOA and COMCASA. We have initiated a joint Tri-Services HADR Exercise named Tiger Triumph as an annual exercise. US now is the largest trading partner in goods and services and this is growing at a very healthy pace. There is a growing cooperation in counter-terrorism; there is good exchange of views on Indo-Pacific where we have established a very promising partnership.What do we expect, of course when you meet, when visits take place, we do expect all these aspects of the relationship to further strengthen, so when you say key deliverables, you know there is a huge canvas and we do expect that during the visit all these areas will be further strengthened."
He also informed that, "discussions were on to accelerate the civil nuclear cooperation with an Indian team in the US to understand modular construction technology. Westinghouse and NPCIL are in discussion to build six 1,100 MW reactors in AP's Kovvada. Following resolution of Westinghouse's bankruptcy issues, the two sides are in discussion on the division of responsibility of the work and reflected the growing comfort level between the nations and both leaders have personally invested."