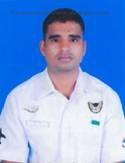 New Delhi. 14 August 2018. Cyclone Ockhi lashed Kerala by nightfall on 30 Nov 17, stranding hundreds of fishermen at sea. At 2000 hrs on 01 Dec 17, Deepak Saini POA (FD) as part of aircrew of Search and Rescue (SAR) helicopter was tasked as free diver for SAR by night. Locating the lone survivor in pitch dark night, gusting winds, torrential rains and high swell, Saini POAFD, regardless of personal safety, volunteered to be winched down to aid the survivor in highly adverse weather. Braving waves over 4 meters high and only an Omni glow for visual reference, Saini, donned the strop on the barely alive fisherman. Despite the extreme risk of getting lost in the pitch black sea, Saini opted to stay behind and sent the civilian to safety.
At 1315 hrs on 02 Dec 17, Saini was once again lowered to rescue four extremely weak fishermen from a boat. The strop whilst being lowered got entangled with an antenna on the boat, posing a potentially fatal emergency for the helicopter at low hover. Showing exemplary presence of mind, Saini disconnected the strop, climbed atop the bridge in a flash, disentangled the winch wire and then reconnected the strop before dispatching the last survivor to safety. All this while he was exposed to grave risk of injuring himself and drowning at sea.
Deepak Saini POA (FD), amidst a Severe Cyclonic Storm rescued lives of five fishermen. He also averted a potentially fatal helicopter emergency. For these exemplary acts of bravery in the face of grave danger the sailor is recommended for award of Nao Sena Medal (Gallantry).