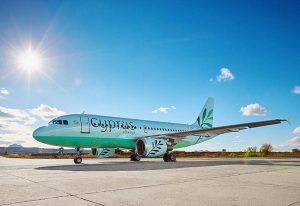 Nicosia. 26 May 2017. In January 2015, Cyprus Airways flew for the last time from Athens thus concluding over 60 years of operation. The company went bankrupt after the European Commission ordered them to repay state debt exceeding 65 million euros.
But this was not being the end of the brand. In 2016, a Russian airline company S7 announced its plans to create a new Cypriot airline. The company named Charlie Airlines fought for the right to use Cyprus Airways trademark and won the claim in July 2016, which cost them 2.04 million euros. They are now allowed to use it for the next 10 years.
From there on, the company has received Air Operator Certificate in March 2017, which allows them to legally operate as air carriers. Charlie Airways is planning to begin its official flights in June 2017. The company is a joint venture between the Russian company and local investors. The new company has two A310-100 airplanes in its fleet, provided by S7.
Turquoise in colour, with the old Cyprus Airways emblem displayed on the side and the new olive branch logo on its engines, it combines the most quintessential symbols of Cyprus in its unforgettable livery. Currently, the company is planning to offer flights from Larnaca to Athens and back.