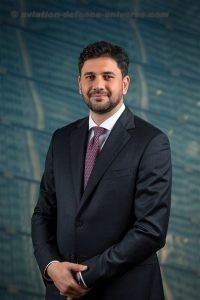 Dubai, November 13, 2019 . Collins Aerospace Systems, a unit of United Technologies Corp. (NYSE: UTX), will make its Dubai Airshow debut with a comprehensive display of solutions that enable a more intelligent, more connected and more electric aerospace and defense industry for its customers in the Middle East.
Attendees can visit Collins Aerospace in booth 1055 to see firsthand how the company is tackling the industry's toughest challenges. The company exhibit will feature:
Defense offerings including the NP2000 Propeller, ACES 5® ejection seat, C-130 wheels and brakes, Unmanned Aerial System solutions, Intelligence, Surveillance and Reconnaissance systems, and Large Area Displays for military aircraft.
Commercial offerings including Pro Line Fusion® avionics, VenueTM cabin management system, StageTM on-demand content delivery system, Airshow® moving maps, IntelliSightTM electronic flight folder and an interactive aircraft highlighting the full breadth of systems from Collins Aerospace.
Collins Aerospace was created in 2018 through the combination of Rockwell Collins and UTC Aerospace Systems — each of which held a long history in the Middle East, providing a complete range of aerospace and defense solutions and services for customers.
Today, Collins Aerospace has more than 400 employees at 15 locations in nine countries throughout the Middle East and Africa, with its largest locations in Morocco and the United Arab Emirates. The company recently expanded its Casablanca operations by 40 percent to accommodate growth.
In all, Collins Aerospace has more than 70,000 employees around the world, including an engineering workforce of more than 17,000.