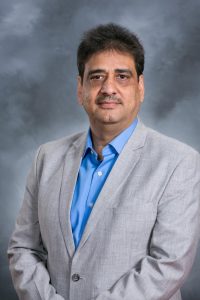 New Delhi. 29 January 2021. "India remains a strategic and important market for us. It is a market that is growing, and we are optimistic that it will continue to do so in the coming years. Collins Aerospace is committed to supporting its customers in India despite any challenges that we come across," reiterated Sunil Raina, Managing Director, Customer & Account Management at Collins Aerospace in an exclusive interview to Aviation & Defence Universe(ADU).
ADU. Can you share an overview of the India Design Center in Hyderabad and the Global Engineering Center in Bengaluru?
SR. Collins operations in India began in 1997 when a manufacturing facility was established in Bengaluru. Since that time, we have continued to expand our footprint in India, most notably with the India Design Center in Hyderabad and the Global Engineering Center in Bengaluru. Today, we have over 5,500 employees throughout 4 locations in India, and we are looking to expand into a new location in Bengaluru's new Aerospace Park.
The Hyderabad facility:
Function: engineering
• SBUs Supported: Avionics, Aerostructures, Power & Controls, Mechanical Systems, Mission Systems, and Interiors
The Bengaluru facility:
Function: Manufacturing and Engineering
• SBUs supported: Interiors, Mechanical Systems, Avionics and Mission Systems
Both centers provide operations capabilities as listed below:
Assembly of flight safety critical Line Replaceable Units (LRU) for commercial aircraft
Interiors
Evacuation systems – slides and rafts
water solutions – silicone heaters
lighting – interiors and exteriors lighting
seating – pilot and co-pilot assemblies
Mechanical systems
cargo – latches, power drive units, guides
actuation – power packs, motor/motor drives
Avionics
sensors, cockpit displays, smoke detectors
Mission systems
in and out wire tank harnesses
Testing of flight safety critical LRU for commercial aircraft
●Vibration test system
●Power door opening system (PDOS) rig
●Micro hardware/software integration test rig
●Scanning electron microscopy/energy dispersive x-ray spectroscopy (SEM-EDAX)
Manufacturing:
●Electronic components assembly – Box builds – Wiring harness
●Mechanical components assembly – Gluing, riveting, torqueing, bonding and testing
●Special fabric and silicone heaters – Cutting, sewing, joining, finishing and bonding – Air retention testing, proof pressure testing and autoclave testing
●Special processes – Chemical processing (brazing, fusion and welding) – Digital radiography
Expertise in technology transfers and product transitions
●Air worthiness certification issuing authority to ship products directly to OEM customer
●Federal Aviation Administration (FAA) Organization Designation Authorization (ODA)
●FAA Designated Manufacturing Inspection Representative (DMIR)
●Directorate General of Civil Aviation (DGCA) Civil Aviation Requirement (CAR) 21 production organization approval
ADU. Can you share details on Collin's CSR initiatives in India?
SR. Collins Aerospace, India is committed to Corporate Social Responsibility (CSR) and has been supporting a number of charitable and philanthropic activities over the years. Keeping in line with Corporate CSR's focus areas, Collins India is dedicated to make a difference in the communities that we live and operate in. Creating a skilled workforce in the country is also an important area of focus.
Corporate CSR Focus Areas:
• Inspiring Our Youth
• Invest in Our Workforce
• Strengthening Our Communities
Education
Early intervention and inclusive education for differently abled kids
Location: Srinivasapura, Kolar
Rural development
Solar electrification of tribal village partnered with Swami Vivekananda Youth Movement
Cleft surgery support program – partnered with ABMSS: Under 'Strengthening Communities' Initiative, we help underprivileged children born with cleft lip, palate and congenital facial deformities with complete comprehensive care that includes Surgery, Orthodontics, ENT, Nasoalveolar Molding (NAM) and Speech Therapy. So far this initiative has directly impacted the lives of 250 children and indirectly over 750 persons in 10 districts of Karnataka.
Gift a vision program – partnered with Shankara eye hospital
Colouring the fallen stars – partnered with United way
'Health Care & Short Term Rehabilitation Centre' for the destitute and those abandoned on the streets of Bengaluru.
Project includes: • Setting up 22 Bed Hospital • Hospital furniture and other infrastructure
Integrated rural development project – partnered with United way
Gangawara Gram Panchayat and Bandekodigehalli Gram Panchayat
Skill Development
●Garden specialist training for youth with disability – partnered with Association of People with Disability (APD)
●Dairy farming for transgender for transgender – partnered with United way
Project objectives:
Provide skill training to the transgender community
Provide a sustainable model of employment
Provide an alternative model of livelihood
●Occupational therapy center
●Skill development center
Environment conservation
Wale the Lake – partnered with United Way
Lake rejuvenation – Devasandra lake
Watershed project – partnered with United Way
Revival of eco-system in and around the valley by creating microclimate for aquatic flora and fauna
Developing wastelands/degraded lands desert areas on watershed basis, keeping in view the capability of land, site-conditions and local needs.
Restoring ecological balance by harnessing, conserving and developing natural resources i.e. land, water, vegetative cover.
ADU. What is the significance of the Collin's Indian arm in the global supply chain?
SR. Now that a vaccine is available for COVID-19, we need to focus on keeping critical transportation functions moving and keeping the global supply chain connected with essential, life-saving supplies. This is exactly what we mean by our mission to redefine aerospace. We innovate. We tackle big challenges. And, in this unprecedented, unbelievably challenging time, we respond in ways that are difficult – but vitally important. Here are some ways our company, our partners and our customers are responding to the call and why we're asking employees to keep Collins moving forward. Our products are helping move supplies where they're needed the most.
●Our wheels & brakes, cargo systems and propellers, air management systems, as well as our avionics and communication systems, are key components of cargo aircraft like the C-130, in use by governments all over the world right now to move essential supplies.
●With border closures and travel restrictions affecting ground mobility across the world, along with capacity limitations on passenger and courier aircraft, cargo planes are increasingly needed to move COVID-19-related supplies. Some medical transport organizations are even considering using cargo planes to deliver time-sensitive cancer treatments, such as stem cells for use in cancer patients.
●Our Field Services teams around the world are enabling continued critical flight operations every day to transport medical supplies, cargo and return people to their homes.
●We're supporting airline customers as they transition select passenger aircraft to all-cargo flight missions for supply distribution. And, we're providing critical spare parts and support for cargo carriers as they see significant increases in operations resulting from reduced cargo capacity from cancelled passenger flights worldwide.
●Our Goodrich hoist was used to deliver Coronavirus test kits to a cruise ship quarantined off the California coast.
●Our Interiors team is designing and testing equipment right now – to assist first responders, health care providers and patients.
ADU. Can you elaborate on Collins Aerospace's initiatives to create a skilled workforce in India?
SR. To build the workforce of tomorrow, we are making significant investments in skills training, partnerships with organizations accelerating equality in the workforce and programs that connect us with everyone from high school students to veterans transitioning from military to civilian careers. It's one way we're working to redefine futures – for both industry and humanity.
The Indian aerospace and defense market and ecosystem : Thousands of government and military missions around the world trust' Collins Aerospace to provide mission-critical communications and flight support service every day, no matter where they fly.
Collins Aerospace's satellite communication and next-generation connectivity solutions provide vital coverage for your mission needs, enabling the delivery of critical voice, video and data in real time, anywhere in the world.
Inmarsat
Iridium®
ViaSat®
Value-added services
24/7 global technical support
ADU. Can you share details on Collins Aerospace's work in touchless airports?
SR. Collins Aerospace continues to deliver next-generation passenger processing solutions that will improve the contactless passenger journey through airports and create innovative ways to address the reality of traveling in a post-pandemic environment. Our technologies for developing a contactless journey include:
ARINC Self Service solutions : Our passenger processing and passenger facilitation solutions help get passengers into and through the airport as quickly as possible. It includes:
●Check-in kiosks
●Baggage processing kiosk and baggage drops
●Contactless kiosk connect
●Security checkpoints
●Self-boarding gates
ARINC SelfPass™ Biometric solutions : This enables document-free movement through airport touchpoints with passenger self-enrollment and the creation of a single-token identification:
●Using facial recognition technology integrated into ARINC Self Service solutions eliminates the need for passengers to present any documents —or even touch any airport system—to check-in, print a bag tag, drop off bags or pass-through pre-security and board an aircraft. Biometrics can provide airports with a host of benefits, helping to create a contactless journey and more
We are actively pursuing opportunities for our contactless passenger journey solutions for future airport infrastructure projects, including those in India. When combined with our secure biometric solutions and self-service airport products, our touchless system enables travelers to experience a contactless airport journey all the way from check-in to boarding, and as we work to help the aviation industry rebuild passenger confidence in flying, it's incredibly important to us to provide solutions to improve safety and which are easy to use.
ADU. What are your plans for the Indian market in 2021?
SR. India remains a strategic and important market for us. It is a market that is growing, and we are optimistic that it will continue to do so in the coming years. Collins Aerospace is committed to supporting its customers in India despite any challenges that we come across. Innovation is a core focus area, and we will continue to develop advanced solutions to meet our customers' critical requirements and to support the Atmanirbhar Bharat initiative. We are also looking for opportunities to increase our MRO focus in India.
Over and above this, Collins has always placed great emphasis on giving back to the communities in which we operate. We will continue our varied CSR programs in the country and will work towards building different segments of society into stronger, more empowered communities.