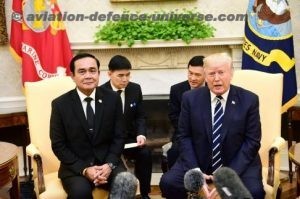 By Suresh Somu
Bangkok. 07 October 2017. YOU won't be wrong to call this a political coup of sorts: Thailand's Prime Minister visiting the White House on October 2, a rare honour for a military leader who seized power in a 2014 coup and has resisted returning the country to democratic rule.
But whatever the political or military undercurrents, President Donald Trump welcoming General Prayuth Chan-ocha to the Oval Office is a distinct endorsement of further US commitment to Asean, especially in the footsteps of Malaysian Premier Najib Razak's Washington visit recently.
"Our relationship on trade is becoming more and more important and it's a great country to trade with," President Trump told reporters before turning to the Thai leader and noting, "I think we're going to try to sell a little bit more to you."
Significantly, General Prayuth's first meeting in the White House comes days after a court in Thailand sentenced in absentia the prime minister he unseated, Yingluck Shinawatra, to five years in prison for criminal negligence.
Human rights groups and the United States have been critical of Thailand's military intervention, saying there has been an erosion of human rights and democratic freedoms. The tough-talking general has argued the action was necessary to stabilise the country.
President Trump has vividly shown he's pro-ASEAN and made it clear that he "looks forward to reaffirming the relationship between the United States and Thailand, a long-standing ally in Asia".
SOURED RELATIONS
This is a far contrast after the 2014 coup, when the general who, as army chief in 2014, removed an elected government in a coup d'etat, souring relations with Washington.
This led to US reducing official contracts and its participation in Cobra Gold, an Asia-Pacific military exercise held in Thailand every year; the largest exercise in which the US participates. The aim is to improve coordination between the armed forces of the US and Thailand to combat hostile military.
The Thailand prime minister showed his appreciation for the 200-year-old relationship and 184 years of diplomatic ties, and expressed the will to collaborate more on security and defence as well as combating human trafficking. On the other wicket, the US president showed more interest in trade and investment.
As General Prayuth shook hands with the US President, he was reminded, too, that there is a high US trade deficit with Thailand. And it is now in the view that both countries will set to explore and deepen a strategic partnership for mutual benefits. That would also translate more trade inflows to the US than before.
STRONG RELATIONSHIP
"We've had a long and very storied history with Thailand," President Trump said. "We have a very strong relationship right now…and it's getting stronger in the last nine months."
"Our relationship on trade is becoming more and more important and it's a great country to trade with…I think we're going to try to sell a little bit more to you," he added, in a reference to the US' trade deficit with Thailand.
For the record, the importance of trade ties totaled $40 billion last year, with the US running a $19 billion deficit.
The Thai premier led a highest-ranking delegation which included Deputy Prime Minister Somkid Jatusripitak and top-level economic officials. They spend three days in the US and meeting other senior state and business officials.
A joint statement after the meeting also reaffirmed the US-Thai alliance as "a key feature in underpinning peace and stability in the Indo-Pacific".
President Trump and General Prayuth "resolved to further strengthen the alliance through a broad range of measures, including enhanced dialogue, closer coordination, regular exchange of visits, and defence modernisation efforts", it said.
GROWING INVESTMENT
The US also welcomed progress by the Thai government in cracking down on intellectual property rights violations, as well as "growing investment from Thai companies in the United States and its potential contribution to the creation of jobs for American workers", the joint statement said.
President Trump also hailed Thailand's commitment to a roadmap that would see free and fair elections held in 2018. He welcomed the roadmap, which upon implementation of relevant organic laws as stipulated in the Constitution, would lead to free and fair elections in 2018.
General Prayuth had assured that an election date would be announced next year, with the election to follow within 150 days, as stipulated in the charter.
Notably, he said he raised the subject without prompting from President Trump.
Prominently, too, the two leaders also intend to look into areas to strengthen the alliance and the defence modernisation efforts. They have welcomed the joint military exercises, including Cobra Gold.
And they stressed on the importance to maintain peace and stability at the South China Sea and to enforce United Nations Security Council resolutions on North Korea.