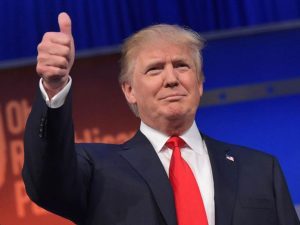 By Arundhati Das
 Reading, PA. 21 January 2017. Snubbing weather pundits, it didn't rain on Donald J. Trump's parade. Just a drizzle. That's not to say the newly-appointed US Commander-in-Chief didn't rain blows on "Washington".
In his trademark bluster, America's 45th President cut no corners in his flagship address to the nation. "Washington flourished, but the people didn't share in its wealth," he chastised the political class, whose members sat around him, squirming in their seats as one could well imagine.
"For too long, a small group in our nation's capital has reaped the rewards of government while the people have borne the cost…. The establishment protected itself, but not the citizens of our country," Trump bellowed from his centerstage in the heart of the power capital.
All that will be a thing of the past, he promised. "The time for empty talk is over. Now arrives the hour of action," Trump said. Moments later, speech delivered and fist punching air, the new President was congratulated by his eloquent predecessor with a, not to read lips, "Good job!" perhaps to excuse the half-hearted applause from the gathered crowd of politicos and seasoned politicians.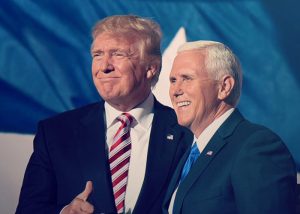 No olive branch to his bitter opponent Hillary Clinton who looked on glumly, no assurances of embracing Americans staunchly against his election and protesting across the country, no balm to sooth the jangled nerves of minorities and immigrants caught in a firestorm of dread and uncertainty, and no salve for the thousands of foreign workers jittery at the prospect of being uprooted by the new regime — media commentators and political observers were quick to point out.
Earlier on Friday morning, the President-elect had tweeted: "It all begins today! THE MOVEMENT CONTINUES – THE WORK BEGINS!"
Inclusive America would now be exclusively about America, was the refrain Trump underlined. That refrain rang through the corridors of social media and sent media platforms into a tizzy of dissenting voices. The cacophony that had these past several months engulfed the kaleidoscopic American dream shows little sign of abating.
Even before Trump had settled down to his lunch post-inauguration, television screens flashed scenes of furious fights on Washington streets with bricks and rocks and pepper spray and batons, as protesters clashed with riot police merely blocks from the inaugural parade.
Washington will also be a sea of protest on Saturday with women rights activists and sundry other groups taking to the streets in peaceful demonstrations, stubbornly affirming: "Not my President".