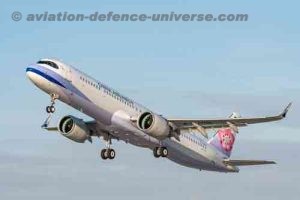 EAST HARTFORD, Conn. 30 November 2021. China Airlines has taken delivery of its first Airbus A320neo family aircraft, an A321neo with Pratt & Whitney GTF™ engines. The aircraft, leased from Air Lease Corporation (ALC), arrived in Taipei, Taiwan, where the airline is preparing it for entry into service. This aircraft is the first of up to 30 A321neo aircraft that the airline ordered in 2019.
"We are excited to begin operating this new fleet in partnership with Pratt & Whitney," said Wang Houng, S.V.P. of China Airlines. "The highly efficient and eco-friendly GTF engines will help us pave the way to a sustainable future, while providing our passengers with a more comfortable flying experience."
China Airlines' order in 2019 covered a combination of owned and leased aircraft – 25 firm with purchase rights for another five – in addition to a long-term EngineWise® comprehensive agreement for the maintenance of the engines. Pratt & Whitney and China Airlines strengthened their relationship again in 2020, with the airline joining the GTF MRO network, in which it will overhaul GTF engines for A320neo family aircraft.
"Congratulations to China Airlines on their first GTF-powered A321neo," said John Plueger, chief executive officer and president at Air Lease Corporation. "China Airlines and its customers will soon benefit from the capacity and range of the A321neo, the economic and environmental performance of its GTF engines, and the financial flexibility of these leased aircraft."
This first A321neo aircraft joins two GTF-powered A320neo currently operated by China Airlines' subsidiary Tigerair Taiwan, also based in Taipei. Tigerair Taiwan had selected GTF engines for a fleet of 15 purchased and leased A320neo family aircraft, of which the airline took delivery of its first A320neo earlier this year.
"We are proud to celebrate this milestone with China Airlines," said Rick Deurloo, chief commercial officer at Pratt & Whitney. "Our relationship began more than 60 years ago, when our Twin Wasp engines powered their fleet of Douglas DC-3 aircraft. We thank China Airlines and ALC for their continued trust in the engine that has been pioneering the future of commercial aviation."
Since entering service in early 2016, the GTF engine has demonstrated its promised ability to reduce fuel burn and carbon emissions by 16 percent on A320neo family aircraft, to reduce nitrogen oxide emissions by 50 percent compared to the regulatory standard, and to reduce the noise footprint by 75 percent. With the GTF engine's long runway for future growth, Pratt & Whitney is just getting started.