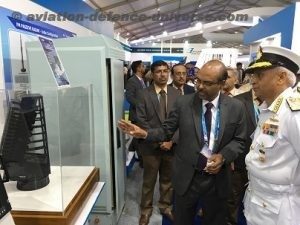 CHENNAI, April 12, 2018: Adm Sunil Lanba, Chief of Naval Staff, launched the 3D Air Surveillance Radar of Navratna Defence PSU Bharat Electronics Limited (BEL) at its stall at DEFEXPO 2018 today in the presence of Mr M V Gowtama, Chairman & Managing Director, BEL, and other senior officers.
3D Air Surveillance Radar
3D C/D Band Air Surveillance Radar is a Multi-Function Active Phased Array Radar with Solid state Transceiver for Land and Naval applications. The Radar provides 3 dimensional target data along withDoppler data.
The Radar employs multi-beam in elevation, mono pulse in azimuth, Digital Pulse compression, Pulse Doppler and many Advanced and contemporary Technologies, with very elegant and modular architecture. These technologies enable detection of very low RCS targets from complex land and sea clutter and jamming environment.
3D Air Surveillance Radar antenna is compact and can beaccommodated on wheeled vehicles and small ships.