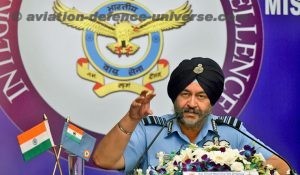 "The IAF is prepared 24 x 7 for any threat and is ready for a befitting response to any contingency. The IAF has already proposed a roadmap to the MOD for induction of fighter aircraft to build up to the sanctioned strength of  42 fighter squadrons and also modernisation. Augmenting the strength of our fighter squadron is our top priority. To achieve this, the IAF is looking at new inductions and mid-life upgrades," said  Air Chief Marshal BS Dhanoa PVSM, AVSM, YSM, VM,  ADC Chief of the Air Staff  in an exclusive interview with Aviation & Defence Universe (ADU) , on the occasion of Air Force Day, 2018.
ADU. How soon do you think IAF will be prepared for a two front war? Please  give an update on the steps being taken to reach the strength of 42 jet fighter squadrons by the end of the 13th Plan (2022)?Rafale and which other aircraft?
CAS. The IAF is prepared 24 x 7 for any threat and is ready to give a befitting response to any contingency with all our available assets. As far as our modernisation plans go, augmenting our fighter squadron strength is our top priority. To achieve this, the IAF is looking at new inductions and mid-life upgrades. The MiG-29, Jaguar and Mirage-2000 aircraft are being upgraded in a phased manner. Also in progress is the induction of contracted fighter aircraft namely LCA, Rafale and the balance of Su-30 MKI aircraft.  Procurement of 83 x LCA Mk 1A has been initiated in December 2017. Further, proposal to procure 114 fighter aircraft through the 'Strategic Partnership' model is being progressed and other suitable options are also being considered to ensure that the IAF attains the authorised strength of fighter squadrons.
ADU. How does IAF plan to meet the requirement of mid-air-refuellers now that the A330 MRTT deal is cancelled and is the VVIP helicopter programme absolutely at a stand still?
CAS. The RFI for six FRA has been issued on 30 Mar 18. Presently, SoC formulation is under progress. Thereafter, the case will be progressed as per DPP. The VVIP role is being met by employing Mi 17 V5, which have been modified for this role.
ADU. Will IAF put itself in the driving seat to determine what cutting edge technologies it wants from the public and private sectors to achieve the desired operational capabilities?
CAS. The coordination between IAF, DRDO/ DPSUs and Private sector industries/Research institutions has always been good and the future technologies desired by IAF have regularly been communicated to them in interactions during Seminars and various other forums. The Technology Perspective and Capability Roadmap (TPCR) is hosted on the MoD website wherein our future requirements have been spelt out. Further, as a vital part of 'Make in India initiative', IAF's projects under the 'Make II' category are also available on the MoD website. To promote indigenisation the IAF has created Nodal Technology Centres (NTC) at all Base Repair Depots and Equipment Depots(EDs).These NTCs have been tagged with R&D organisations and reputed academic institutions for initiation of R&D projects for indigenisation, obsolescence management and enhancing operational capability of weapon platforms/ equipment.
ADU. Has there been a positive effect on the IAF with MoD's revision of the financial powers delegated to the services for revenue procurement? Have the capital procurement procedure committee report recommendations helped IAF to take decisions on capital procurement to meet their needs? Please explain with examples.
CAS. Yes, the revision of delegated financial powers to Services has not only increased the pace of expenditure but also given a lot of flexibility to the local Commanders.  This has also enhanced the ease and efficiency of revenue procurements at field formations. Based on the recommendations of a Committee of Experts, DPP-2016 has introduced specific provisions that will act as a growth stimulus to the domestic defence industry. For the first time ever, provision to procure equipment with enhanced performance parameters has been included, which will enable the armed forces to procure the most advanced weapon systems available in the market. Further, DPP 2016 provides greater impetus to the MSMEs, with certain category of 'Make' projects reserved exclusively for them. The 'Acceptance of Necessity' for LCH & LCA Mk1A have been accorded as per the procedure specified under DPP-16 and the procurement process has been initiated. The Expression of Interest for 'Make II' project of Chaffs and Flares has been hosted on 09 July 2018.
ADU. How is 'Make in India' being helpful in filling the deficit IAF is facing?
CAS. The IAF has fully supported the 'Make in India' initiative and several important procurements and projects have materialised as a result of this synergy. The IAF has already inducted the LCA and procurement of 83 additional LCA Mk 1A is at an advanced stage. IAF is also providing support for the LCA Mk2 and AMCA programs. The ALH series has been in service for some time now and the armed version has recently been inducted. We have also inducted the AEW&C aircraft this year. The indigenous Akash SRSAM is operational and more numbers are planned to be added. DRDO is planning development of two AWACS (India) on the Airbus A330 platform. Some other important indigenous projects are the LCH, Avro replacement, Pechora digitisation, CIWS, MAFI Phase-II, M-7 R/T sets, Jaguar simulator, Infrared Search and Track (IRST), Chaffs and Flares etc. Another area where the IAF has benefitted from 'Make in India' has been Radars, be it the Indira, Rohini or Ashlesha LLLWR.  Arudhra MPR and Ashwini LLTR have been developed and will be inducted in due course of time.