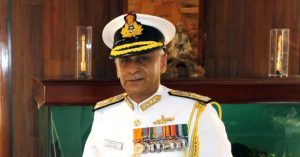 New Delhi. 15 May 2017. Admiral Sunil Lanba, PVSM, AVSM, ADC, Chief of the Naval Staff, is on an official tour to Singapore from 15 May 2017. The Admiral will be attending the Republic of Singapore Navy (RSN) 50 International Maritime Review (IMR), commemorating 50 years of the RSN which was formed on 05 May 1967, and International Maritime Defence Exhibition and Conference (IMDEX) 2017. Besides attending the IMR and IMDEX 17, the visit aims to consolidate existing Maritime Cooperation initiatives as well as explore new avenues.
Defence cooperation between India and Singapore is robust and is primarily focused towards Maritime Cooperation. India signed a Defence Cooperation Agreement in 2003, which was renewed in 2015.Indian Navy and Singapore Navy are partners in the Indian Ocean Naval Symposium (IONS), a Maritime Cooperation construct, conceptualised and pioneered by Indian Navy in 2008. Singapore Navy has stood shoulder-to-shoulder with Indian Navy to take this 21st century maritime construct forward. Both countries have been conducting the bilateral exercise 'SIMBEX' since 1994. The next edition of the exercise is scheduled to be conducted off Singapore from 18 to 24 May 2017.
Both navies also engage in Navy to Navy Staff Talks, which commenced in 2004. The 12thStaff Talks were conducted in March 2017 and the 13th Staff Talks are scheduled to be held in 2018. The Singapore Navy has participated in all the MILAN-series interactions organised at Port Blair by the Indian Navy. Warships of both countries regularly visit each other's ports.
The last visit by the Chief of the Naval Staff of the Indian Navy was by Admiral RK Dhowan in 2015 and the Singaporean Naval Chief Rear Admiral Lai Chung Han last visited India in Feb 2016 for the IFR 16 at Visakhapatnam. Both countries also enjoy healthy training cooperation by means of trainee and instructor exchange programmes.
India – Singapore share similar maritime challenges such as coastal security, large coastal shipping and fishing fleet, wherein both navies have opportunities to learn from each other's experiences. In addition, ground exists for cooperation on a number of issues common to both navies.
During the visit, Admiral Sunil Lanba is scheduled to hold discussions with the Defence Minister of Singapore, the Chief of Defence Forces, Singapore and the Chief of Singaporean Navy, besides having bilateral talks with a number of Chiefs of other Navies attending the event at Singapore.