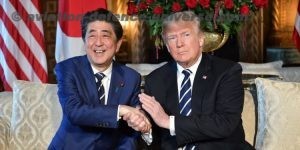 By Suresh Somu
Bangkok. 31 May 2019. Japan and the United States of America may be good buddies but in the latest visit by President Donald Trump to Tokyo, there appear to be evident cracks.
For all the pomp and pageantry one couldn't paper over the tensions between President Trump and Japan's Shinzo Abe on two of their most pressing issues: North Korea and trade.
It was rather plain to see by analysts as much as the two leaders tried mightily to minimize their differences during Trump's four-day state visit to Tokyo, while playing up their close personal friendship and their countries' long-held ties.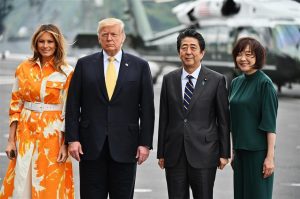 But tensions abound, with President Trump on Monday brushing off the significance of North Korean short-range missile tests that have rattled Japan and reasserting his threats to hit Abe with potentially devastating auto import tariffs.
Abe, like a typical honest-broker Japanese host, played it excellently to Trump and hailed the US-Japan relationship as "unshakable bond" as both leaders discussed a range issues including much-talked-about thorny ones on North Korea.
TRADE TILT
On the trade front, Trump always maintained his position citing that there is a trade tilt. The respective Trade Ministers are locked horns over tariff cuts and trade imbalance. However, Abe's offensive charm could help to mend any damage both sides may have suffered over the years and put things back on track, a win-win approach.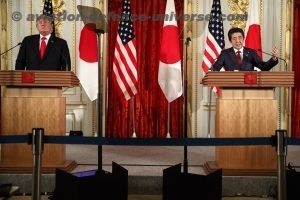 Observers called Mr Abe, an "eager salesman" where he offered to play a role in facilitating talks with Iran as an intermediary amid mounting tensions in the Middle East. Japan, a close ally of the US also maintained ties with Iran.
"I know for a fact that the prime minister's very close with the leadership of Iran and we'll see what happens," President Trump said on Monday ahead of a bilateral summit with Abe, responding to a shouted question.
This was the result of the pressure applied by Trump with the punishment of new economic sanctions on Iran after withdrawing the US last year from a 2015 nuclear deal with Tehran's leaders.
TIT-FOR-TAT RELATIONSHIPS
Looking how tit-for-tat retaliations between US and China, Japan on the other hand, is playing its card in a cool-headed manner presenting itself as the most friendly of Washington trade partners as opposed to provocation.
Abe remained intent on praising the president and reinforcing the healthy state of their alliance. On the North Korean missile tests, he repeated earlier statements that they were "regrettable" but said he and the president were in complete agreement. And on trade, a major issue looming over the two countries as President Trump has threatened auto tariffs,
The Japanese Prime Minister said he was pursuing a bilateral deal that would be an eventual "win-win" for both sides.
President Trump said the talks are "moving along very nicely" amid "very good conversations" with Tokyo. He further pledged to assist Tokyo in recovering 17 Japanese citizens it believes were kidnapped by North Korean agents in the 1970s and 1980s.
POSITIVE OUTCOMES
And it's not all play where both leaders took to the golf course, witnessed sumo wrestling. But there were some positive outcomes too. On Sunday, Trump tweeted that he expected big moves on trade would wait until after Japan's upper house election in July.
"Trade-wise, I think we'll be announcing some things, probably in August, that will be very good for both countries," President Trump said. "We'll get the balance of trade, I think, straightened out rapidly."
Despite Abe's earlier statements, citing North Korean missile tests were "regrettable", he lauded his counterpart's approach of building trust and confidence with North Korea's leader Kim Jong-un. Given the recent launches by North Korea has caused jitters in the Korean peninsula, Abe was wary not to criticise President Trump's "not bothered" attitude towards 'small missiles'.
MEETING NORTH KOREA
He also stated that he is ready to meet Kim "without preconditions" but the latter has not registered any interest as yet. Perhaps the post-Trump visit will offer Abe more positive vibes to Kim.
But let's not forget that the US President has already stated he is in no rush to push as there had been no nuclear and rocket testing from North Korea in the past two years. Although the Americans think it could be a violation, he takes a different stance that perhaps Kim wants to attract attention.
Truth be told, perhaps Kim is slowly moving towards with President Trump's deal of economic sanctions to be removed in return of complete denuclearisation from North Korea.
Now with South Korea and Russia working with North Korea, it is only a matter of time Japan might jump into the bandwagon with Kim as a matter of global peace.