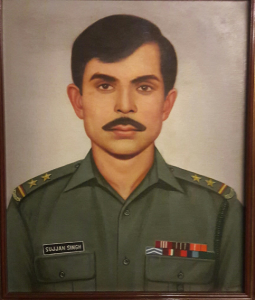 By Col NN Bhatia (Retd), 13 Kumaon is known for its valour and triumphs. After creating a history of sorts in the frozen heights of Rezang La on 18 November 1962 where 114 brave hearts under the inspiring leadership of late Maj Shaitan Singh, laid their lives in the security and integrity of their motherland. Late Maj Shaitan Singh was honoured with the country's highest bravery medal of Param Vir Chakra. The Ahirs from Ahirwal region of Haryana yet in another soul stirring action against the terrorists in Village Zalurah in Kupwara district in Jammu & Kashmir etched their names in golden words in history books forever to motivate posterity. This time it was man of grit and steel- Subedar Sujjan Singh from Village Kanina in district Mahendragarh in Haryana.
Sajjan Singh was born on 30 March 1953 in Kanina and got enrolled in the 13 Kumaon on 27 May 1971. He was a brilliant and brave soldier who fought the insurgents gallantly in numerous actions in Kupwara. In one of the actions 'Operation Eagle on 26 September 1994' where he showed rare conspicuous courage, he was martyred in Kupwara in J&K. He was awarded Ashok Chakra for this extraordinary bravery, leadership and supreme sacrifice.
Operation Eagle- 26 September 1994
On 25 September 1994, a source informed the Operation Officer that a group of terrorists, including a Battalion Commander, and foreign mercenaries were seen in the vicinity of Village Jalurah, and were probably staying in a hideout North East of the village.  Based on the information available, it was decided to carry out a search and destroy mission in the jungles.
Terrain and Topography of Village Zalurah in Kupwara 
Kupwara is situated at an altitude of 5300 ft above sea level and is the northern most district of Kashmir valley. It shares a long border with Pakistan Occupied Kashmir (POK) in its north and western side and is totally enclosed by the Baramulla district on the other sides. The district is endowed with rich dense forests. The Kishenganga River originating from the Himalayas flows through the outer areas of the district from east to west. Kupwara district has three tehsils – Handwara, Kamah and Kupwara and eleven blocks each having numbers of Panchayats. Due to hilly terrain, thick forest and proximity to POK, it is hotbed of terrorist activities. The terrain around village Zalurah where the hideout was located was extremely tough.  The area had cliff like rock face, with very steep slopes and was a stony waste.  The area was completely open, except for thick vegetation which existed in the numerous steep nullahs interspersed the complete area.
Operational Plan
Based on real time actionable intelligence and the terrain configuration the following plan was evolved:-
Two columns to move on foot from Kigam and establish cordon on the ridge line North and East of Village Zalurah, by first light.
Two columns to move in vehicles and cordon the area from West and South at first light.
The foot columns to commence search at first light and descend from the ridgeline, combing the complete area.
Extensive search to be done of the nullahs, spurs and undergrowth.
Conduct of Operation
As planned the foot columns moved out from Kigam Camp at 0200 hours and after an exceptionally tough climb during hours of darkness, reached their designated positions before first light.  The columns in vehicles debussed North of Village Zalurah and sealed the target area from West and South. Search commenced immediately thereafter. At around 0900 hours one search party under Subedar Sujjan Singh, spotted two terrorist hideouts alongside a narrow and very steep nullah.  The party tactically and with utmost stealth closed in on the hideout and was about 10 meters away when they came under intense, accurate fire from the terrorists.  Another party lead by Captain KKS Koyarh realizing that encounter had taken place, immediately started moving towards the hideout.  Subedar Sujjan Singh saw this party moving and immediately realized that the lives of the officer and other men were in grave danger, and unless something was done, they would certainly suffer casualties. Appreciating that the only course opens to him to save lives of his comrades in arms was to charge onto the hideout, exposing and putting own self under extreme danger he stealthily charged the terrorists and directed Sepoy Mukesh Chand, to provide him the necessary covering. Subedar Sujjan Singh with sheer guts and determination managed to rush and was just about five meters away from the terrorists when he received a burst in his abdomen.  Sepoy Mukesh Chand had also in the meanwhile received bullets in his wrist and chest.  Undaunted, Subedar Sujjan Singh continued the assault, firing simultaneously and killed all the five terrorists in the hideout.  He in the meanwhile was further hit by bullets in his head and martyred instantly.  In a display of most conspicuous gallantry and an act of pre-eminent daring and valour, Subedar Sujjan Singh not only killed five hardcore terrorists, but also saved the lives of his comrades.
Recoveries
The following weapons were recovered during the operation:-
Rifle AK-56                        –       3
Rifle Sniper                        –       1

Magazine AK-56                –     16

Magazine Sniper                 –      1

Silencer unit for Rifle AK-56 –   1
Round                                   – 330
Hand Grenade                   –        1
Radio Sets                          –        2
Terrorists Killed
In the short but fierce encounter five dreaded terrorists as under were killed:-
 In this Imtiyaz, Battalion Commander, Zangher Battalion of the Hizbul Mujahideen.
Two foreign mercenaries.
Two 

unidentified terrorists.
Own Casualties
During '
Operation Rakshak'
the Battalion lost 10 brave Ahirs
 as under:-
Subedar Sajjan Singh, Ashok Chakra (posthumously)
Naib Subedar Roop Ram Yadav, Sena Medal (posthumously)
Havildar Ram Singh Mehta
Havildar Dasrath Singh
Lance Havildar Rawat Singh
Lance Naik Rai Singh, Shaurya Chakra (posthumously)
Lance Naik Lala Ram
Lance Naik Mahabir Prasad, Sena Medal(posthumously)
Sepoy Dasrath, Shaurya Chakra(posthumously)
Sepoy Jaswant Singh
Honours and Awards in 'Operation Rakshak'
In Operation Eagle, for his most conspicuous gallantry, pre-eminent daring and valour, brave heart late Subedar Sujjan Singh was awarded Ashok Chakra (posthumously) on Republic Day 1995. Sepoy Mukesh Chand was awarded Sena Medal. The overall tally of the gallantry awards in Operation Rakshak were as under:-
Ashok Chakra -1
Shaurya Chakra-2
Sena Medal-10
COAS Commendation Card-18

Army Commander Northern Command Commendation Card-14

'The Bravest of the Braves Award'
'The Bravest of the Braves'
Indian Army has unparallel history and ethos of bravery and raw courage unto death.  In the Battle of Saragarhi  fought before on 12 September 1897 between twenty-one Sikh soldiers of 36 Sikh (now 4 Sikh) defending an army post, and 10,000 Afghan and Orakzai tribesmen in the North West Frontier Province then part of British India and now named Khyber-Pakhtunkhwa in Pakistan.   This platoon of the twenty-one Sikhs led by Havildar Ishar Singh chose to fight to the death. All the 21 Sikh soldiers who laid down their lives in the Battle of Saragarhi were posthumously awarded the Indian Order of Merit, the highest gallantry award of that time, which an Indian soldier could receive by the British crown, the corresponding gallantry award being Victoria Cross (VC), which is equivalent to today's Param Vir Chakra (PVC). Itis considered by some military historians as one of history's great last- stands perhaps paralleled in Rezang La Battle in 1962 by 13 Kumaon where 114 brave hearts out of 120 were martyred.
For its extremely exemplary role in combating insurgency in J&K, 13 Kumaon was awarded 'the coveted silver salver by the Governor of J&K ''. All battalions of the Indian Army that have earned minimum two highest gallantry awards i.e. 2 Param Vir Chakras (PVCs) or 2 Ashok Chakras (ACs) or 1 PVC and 1 AC are called  "The Bravest of Braves". 13 Kumaon joined the galaxy of the few likes of 1/11 Gorkha 13 J&K Rifles and 15 Kumaon (Indore) bestowed with this great, unique and rare honour that will inspire posterity forever.
War Memorials
To honour Late Sub Sajjan Singh Ashok Chakra and 9 martyrs in Operation Rakshak two memorials were constructed-one at Kigam Kupwara and the other in Kanina-the birth place of brave heart Sajjan Singh. I was honoured to pay him my homage a few years back after Rezang La Day celebrations at Rewari driving down to Kanina.