By Brig.(Retd.)Vijay Atray
Pune. 18 January 2020. SriLanka is where in 1987, the Government of India sent the Indian Peace Keeping Force ( IPKF ) with many units of the Corps of Engineers to the assistance of the Government of Sri Lanka to control the terrorist activities of the Liberation Tigers of Tamil Ealam .The IPKF carried out an intensive day and night surveillance against the LTTE on land and water, and also a considerable number of humanitarian tasks to alleviate the suffering of the civil population. All the Sappers were involved in patrolling of the seas and waterways and clearance of improvised Explosive Devices (IEDs) and mines. 115 Engineer Regiment was designated as the Chief Coordinator of the Integrated Civil Action Plan for Batticaloa Sector under 57 Mountain Division, in its efforts to win the confidence of the people of Sri Lankan. The unit deployed from January to February 1988, carried out maintenance and improvement of the Batticaloa airfield, construction of two parking aprons for MI 8 helicopters, landing of tanks from ships, extensive patrolling of lagoons and the sea, road clearance for IEDs and removal of anti-personnel mines. Inland Water Transport (IWT) Craft were inducted into Op`Pawan' for loading and unloading stores and personnel at designated harbours of Sri Lanka. Tens of thousands of personnel, and huge quantities of cargo and vehicles were ferried by IWT Craft during this operation.
A particularly emotive task was the adoption of a colony of lepers comprising 55 males and 10 females. The Bombay Sappers tightened security of the colony to prevent thieves from stealing their medicines and supplies and provided them with rations, clothing, water and power, hygienic surroundings, fuel for their outboard motors, and also setup a television receiver. In the villages of Pellaiyuarady & Therviperumthurai they supplied water, made playing fields, built a school and improved approaches. The Bombay Sappers also encouraged the Road Development Authority to dig wells and organize quarrying operations to generate employment. 270 Engineer Regiment was involved in close support engineer tasks, in addition to infantry tasks. The three field companies were affiliated to infantry brigades. The Regiment also handled the Civil Affairs Cell of the Division, dealing with matters relating to complaints of civilians. Extensive dozer work was carried out by the unit for the authorities in Sri Lanka. Tasks such as maintenance of roads, electric supply, ferrying of troops, jungle clearing, manning of strategic piquets, and various reconstruction and rehabilitation works were carried out. During their stay in Sri Lanka, Engineer Regiments developed a knack for identification and neutralization of booby traps. Invariably all operations had a section of Sappers spearheading the advance. In a lighter vein, this section was called 'human trawl'.110 Engineer Regiment , was committed to the dual task of combat work and as a construction agency for rehabilitation and reconstruction work in Trinocomalee. The main tasks involved protection and sanitization of the jetty in the strategically vital Trincomalee harbour, railway track sanitization and piquetting, road sanitization, harbour patrolling, construction of helipads, and loading and unloading of all cargo vessels arriving and departing from Trincomalee harbour. Reconstruction and rehabilitation work undertaken included repair and maintenance of the runway at Trincomalee Airport, Nalanda Maha Vidyalaya, renovation of temples and construction of a prayer hall.
And then in 1988, 411 (Independent) Parachute Field Company was mobilized in four hours for Op 'Cactus' t Maldives and played an active role on the island in ferrying our troops across water channels, commandeering foreign made vessels and boats, bomb disposal and defusing of grenades. The unit also ran courses in field engineering and demolition for the security forces of the Maldive Islands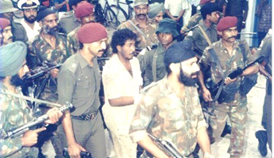 On 3 November1988, 50 Parachute Brigade received orders to alert one battalion group for an airborne assault against Sri Lankan Tamil militants on a Maldivian island. The militants had besieged the Maldivian National Security Service (NSS) and were armed with small arms, rocket launchers and mortars, posing a grave threat to the security of the President of Maldives. A platoon of 411 Parachute Field Company, which was part of the 6 Para Battalion Group participated in this assault. Maj K Babayya, Officer Commanding 411, was dispatched to the Agra airfield to organize a mounting base. The planning was done with reference to Photostat copies of tourist maps of the Maldivian capital Male and a coffee-table travel book on the Maldives updated with information by various officials. The NSS HQ building was re-taken from the mercenaries and the President of Maldives was escorted from his safe house by 0315 hours on 04 November.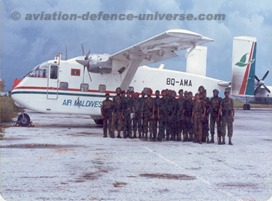 Post Operations 411 was at Male and Hulule clearing the jetties and the harbour at both these places and trying to get the water desalination plant operational again. A number of islands were littered with unexploded grenades and bombs and 411got down to attending to this hazard in right earnest. The Sappers, in no time, had accounted for all the "blinds", in a manner that would make the islands safe.
India time and again has rescued her neighbors in distress. SriLanka & Maldives are such examples.