Pune. 20 January 2020. Apart from the main responsibility of defending the borders of the country, the Armed Forces render assistance to civil authority, when called upon to do so, for the maintenance of law and order, maintenance of essential services, disaster relief and other types of assistance.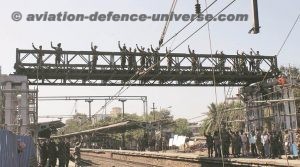 The necessity for construction of Foot over Bridges (FOB) in Mumbai emerged due to stampede tragedy an Elphinstone Road Railway Station on 29 Sep 17 where 22 innocent civilians lost their lives. Indian Army was tasked to undertake construction of three FOBs for Indian Railways in Mumbai as an Aid to Civil Authority for safe and smooth functioning of essential services, vital for state functioning. These FOB's were required to be constructed by 31 Jan 18 and three locations at Elphinstone Road Railway Station, Curry Road Railway Station and Ambivali Railway Station were identified by the govt. Elphinstone Bridge was given on 26 Oct 17 and for the rest two Bridges on 04 Nov 17 with Bombay Engineer Group and Centre being overall task executing agency.The Task entailed 240 feet multiple span Bridge at Elphinstone Bridge site, 60 feet Bridge at Ambivali and 100 feet Bridge at Curry Road Bridge site along with Stair Cases and Canopy.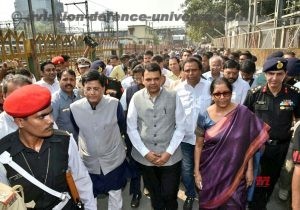 The construction of the FOBs was divided into four main stages which included construction of pile foundation, fabrication and erection of piers, launching of bridge over piers and erection of ancillary's i.e. Stair Cases, Canopy and Protective wire mesh. Heavy traffic on routes and limited working hours, high voltage wiring, restricted space and difficulty of construction were some of the challenges which were faced. One of the Major requirements of the railways FOB was provision of a canopy over the Bridge which necessitated changes in the bridge design. The additional load due to wind factor was worked out. Garden Reach Ship Builders and Engineers was approached and strengthening of the bridge was carried out using additional chord reinforcement. The roof of the canopy was designed in a staggered pattern thus reducing the wind loads acting on the bridge. This was for the first time that the Bailey bridge had been provided with a canopy anywhere in the world.