Moscow. Boeing Company will announce new strategic initiatives and sign agreements with Russian partners at the International Aviation and Space Salon, according to the press service of the American aerospace manufacturer.
"Agreements will be signed with Russian partners and will strengthen long-term obligations within the framework of the company's partnership with the Russian aerospace industry," the statement says.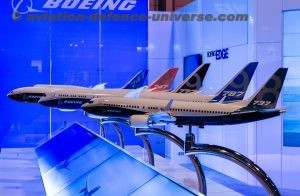 Boeing will demonstrate its commercial products, services and technologies at MAKS-2019. At the interactive exposition Boeing will present a line of the newest aircraft and a portfolio of services of the company, as well as a model of supersonic aircraft Aerion AS2 Supersonic. With the help of virtual reality technology, visitors to the exposition will be able to take an interactive tour of Boeing aircraft.
The company will also take part in the Future Hub section. It is planned to hold events aimed at attracting the attention of talented young professionals to the aerospace industry. Boeing's booth will be presented in Pavilion C3, where the Future Hub section will be displayed. The company's specialists will also hold master classes and interactive educational games for university students as part of the joint program of Boeing and "Junior Achievement Russia" organization ("Achievement of young people") "Aviation from A to Z".