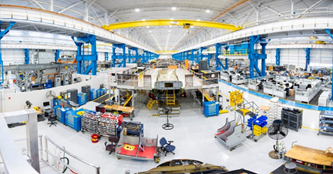 Philadelphia. 03 August 2019. BoeingandUS armed forces including the U.S. Marines, U.S. Air Force, and U.S. Navy celebrated the transfiguration of an estimated 32,500 square meter factory outside Philadelphia into a state of the art manufacturing plant where company engineers will build fuselages for the V-22 tiltrotor aircraft and upgrade the MV-22 fleet for the Marines.
Vice President and General Manager of Boeing's Vertical Lift Division, David Koopersmith told, "Boeing's $115 million investment supports U.S. and international demand for the unrivaled capabilities of the V-22. We started this project two years ago in a mothballed building. Now, it is a state of the art manufacturing center for the only in-service tiltrotor aircraft in the world."
"The V-22 readiness program is our number one priority. The CC-RAM program is key in meeting our readiness goals and returning capable and reliable aircraft to Marine units around the world," asserted U.S. Marine Corps Col. Matthew Kelly, V-22 Joint Program Manager.
It will accommodate the standard arrangements – Readiness and Modernization (CC-RAM) program that standardizes the Marine Corps Osprey fleet by modernising previously manufacture aircraft to the new Block C arrangement. The facility will also abode fuselage building for Navy, Air Force, Marines, and international Osprey customers.