Bangalore. 15 February 2023. "Building on the success of the Hawk Mk132, which has exceeded 100,000 flying hours with the Indian Air Force and the Indian Navy, we continue to stand by for a potential repeat order to fulfil the Indian Air Force's requirement for its prestigious aerobatic team, the Surya Kiran," said  Ravi Nirgudkar, Managing Director, BAE Systems – India, Bangladesh, Sri Lanka in an exclusive interview to Aviation & Defence Universe (ADU) at Aero India 2023.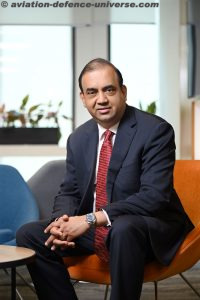 ADU. How important is India as a market for BAE Systems? What is your strategy for operations here?
RN. The contours of the Indian defence landscape are evolving making it one of the most exciting and promising markets internationally. India is a strategic market for BAE Systems. Our presence in India spans over seven decades, and we continue to explore avenues to partner with Indian Armed Forces on new projects and are committed to strengthen India's national security with our advanced capabilities and futuristic defence technologies.
The cornerstone of our strategy lies in partnering with the Indian industry – both manufacturing and technology based across our capabilities in Air, Land, Sea, Cyber and Advanced Electronics. As a founding partner of defence manufacturing in India, BAE Systems recognises India's aspirations and we fully support the Government's vision for Atmanirbhar Bharat and Make-in-India. Our partnership with India has evolved significantly during the past ten years and this is reflected in our mission of Co-Creating for a Self-Reliant India. Our partnership with local defence industries such as Hindustan Aeronautics Limited and Mahindra Defence Systems Limited (MDSL), are well known in the industry and we look forward to more such longstanding associations.
ADU. M777 Ultralight Howitzers programme is an important project for BAE Systems in India. What is the future of the AIT facility that Mahindra Defence has jointly created with BAE Systems?
RN. Indeed, the M777 Ultra-Lightweight 155mm Howitzer programme is one the most important ongoing programmes in India. We are proud to have contributed to Indian Army's artillery modernisation through our combat-proven and reliable M777 Howitzers, which are also backed by local Assembly, Integration and Testing (AIT). Our partnership with Mahindra Defence Systems Limited (MDSL) to produce the M777 ULH is well known in the defence industry and one that we are very proud to have.
In line with the government's vision to support local manufacturing, we established the local Assembly, Integration and Testing (AIT) with MDSL in Faridabad, Haryana. The AIT was a fundamental part of the M777 production line, and we are incredibly proud of what was achieved and maintained throughout the pandemic. The Long Term Sustainment Hub for the Indian Army will be incorporated into their Depot Capabilities and BAE Systems and the broader Indian Supply Chain will support this as the guns continue in service.
It's an exciting time for us as we have now delivered on our commitment of 145 guns to the Indian Army. As we enter the sustainment phase, we're now focused on continuing to strengthen our collaboration with our Indian team-mates to ensure spare parts can be ready and available, whenever and wherever they're needed. 
ADU. The Hawk programme in partnership with Hindustan Aeronautics Limited is a classic example of Make in India collaboration. What is the status on the orders for an additional 20 Hawks for the Suryakiran team? 
RN. We are proud of our longstanding association with Hindustan Aeronautics Ltd (HAL) in technology transfer and capability sharing. Indeed, HAL's production line in India where the Hawk aircraft are assembled is a demonstration of the success of Make in India in defence manufacturing. India is the largest operator of the Hawk Advanced Jet Trainer with 123 aircraft ordered to date, and the Indian Hawks are undoubtedly, world-class aircraft with great potential for exports.
ADU. How is BAE Systems planning to support the Indian Navy in its modernization?
RN. BAE Systems is well-known for its expertise in designing and developing industry-leading maritime defence capabilities. This is reflected in our ever-growing portfolio in maritime domain, which includes aircraft carriers and amphibious assault ships, destroyers, frigates, corvettes, auxiliaries, submarines as well as naval guns and carrier-capable aircrafts such as the F-35 demonstrates the range of our maritime capabilities. 
BAE Systems is one of the pioneers in designing, manufacturing, and supporting complex surface ships, submarines, torpedoes, radars, and command and combat systems. One prime example of this is HMS Queen Elizabeth Class Carriers, which represents an engineering challenge of unprecedented scale and complexity for the United Kingdom; a national endeavour, involving six shipyards and 10,000 people.
During our long association with India, we have also supported Indian Navy with the development of Indian Navy Ship (INS) Nilgiri, a Leander-class frigate, and through our Sea Harriers and Hawk Mk132 Trainer Aircraft. Today, India Armed Forces are keen to modernize their existing naval capabilities and we stand committed to support them in this process with the experience and expertise we have in maritime domain.
ADU. What are the upcoming programmes BAE Systems is focusing on at this point in time and where do these projects stand? What are BAE Systems' products that can be offered to meet India's current requirements
RN. The dynamic defence and security landscape of India offers great potential to companies such as ours. Indian government also looks keen to procure the most advanced, state-of-the-art, and futuristic defence equipment that can best suit Indian Armed Forces current requirements.  In addition to our ongoing programmes, we have a lot of modern technologies from projects such as CV90 and BvS10 Beowulf, which are designed to provide strategic mobility, high survivability and protection in any terrain or tactical environment, and are well-positioned to support the Indian army in their critical ground missions.
The CV90 platform is engineered to provide optimum mobility and agility. On the ground it delivers first-class performance even in the toughest terrains, providing your personnel with the tactical edge. BvS10 Beowulf is a dual body, amphibious vehicle with well-proven technology that is designed to provide total operational support where other vehicles cannot. We also anticipate potential in the cyber security sector and developed technology and resources.
We've maintained that we are open to any opportunity that is presented to us. As we have further extended our Make in India legacy by being one of the first companies to invest in UP Defence Corridor (through partnership with Lucknow-based PTC Industries Ltd), and we look forward to partner with Indian Armed Forces on new projects to support its modernisation process.
ADU. Recently, India's National Security Council Secretariat (NSCS) informed that they and the UK Government in collaboration with BAE Systems conducted Cyber Security Exercise for 26 Countries. Please tell us more about the exercise.      
RN. BAE Systems is one of the leading suppliers of cyber, intelligence and security capabilities and it was amazing to play our part in the recent cyber security exercise. Our BAE Systems team facilitated a bespoke scenario based on threat intelligence and operational experiences, with 26 countries taking part. Curated and designed by our engineers, the exercise explored the complexity of decision-making in response to ransomware on Critical National Infrastructure. Today, the cyber threats are becoming more advanced and therefore it was a great experience to play a part and give partner nations the opportunity to test their capability in a secure and controlled environment.
ADU. What is the key focus of BAE Systems at Aero India 2023. Update us on the company's exhibit at the show. 
RN. BAE Systems' focus at Aero India 2023 will be centered around our vision to partner with key industry stakeholders to manufacture and deliver industry-leading defence technologies to India's Armed Forces. We'll be prioritising our time engaging with our partners, team-mates and suppliers, supporting US and UK engagements and events, and hosting our own reception.