To manufacture and export super critical components for Global OEMs in the Aviation and Power Generation Industry
Expected employment creation will be for 1000 people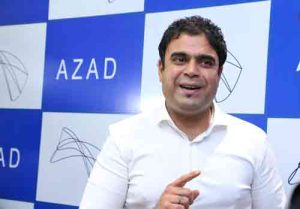 Hyderabad. 22 November 2021. Azad Engineering Pvt Ltd, a Hyderabad based market leader in Precision Engineering, a company that caters to the Energy, Aerospace, Heavy Machining and Oil & Gas Global OEMs, is in the process of setting up its 3rd state-of-the-art lean Manufacturing Facility & Centre of Excellence of Global Standards at Tunki Bollaram, Medchal Malkajgiri District of Telangana.
This morning, the Company has laid the foundation stone at the site and plans to invest over Rs 500 crores over the next 3 years on this plant, spanning an area of 23.45 acres, in a phased manner. This facility will create a one-of-its-kind precision manufacturing eco-system which will feature Uber- Smart, Lean and Modern Shop floors with most advanced manufacturing technology and will showcase cutting-edge futuristic technologies such as Industrial Artificial Intelligence, Robotics, Digitization, Lean etc. The Company is also planning to acquire IGBC Gold Rated Green Building certification for this Plant. The construction of the first phase of 30,000 sq meters will be completed by July 2022. Hence, this facility will be operational by Q2FY23 and will primarily manufacture and export super critical components for Global OEMs in the Aviation and Power Generation Industry such as GE, Mitsubishi, Siemens, Toshiba, MAN, Doosan Skoda, GE Aviation, BOEING, HONEYWELL, EATON, RAFAEL, BHEL, HAL, Baker Hughes among others. Besides, the setting up of this Plant will benefit the local communities in and around its vicinity as it is expected to create employment opportunities for around 1000 people.
Speaking to the media, Rakesh Chopdar, Managing Director, AZAD Engineering said, "Setting up this 3rd plant is part of our strategic initiative to significantly scale up our manufacturing operations by investing in world-class, Industry 4.0 lean manufacturing facility to cater to the demand of our esteemed global clientele. We are very excited for this new phase of our growth and so we are investing to create a facility that will feature unique capabilities in Precision Forging, Sheet Metal Fabrication, HVOF, TBC, Thermal spray Coating, EB Welding, Chemical processing (NADCAP), Metal Joining (NADCAP), Non-conventional processes (NADCAP), Fluid distribution system (NADCAP), Facility for – ETF / ITF and specialty fasteners, Testing laboratory (NABL) along with Robotics and automation to name a few.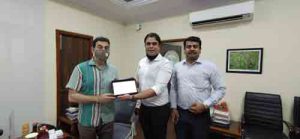 It took us years to clear all the major stringent entry barriers and now is the time to ramp up the scale of production to meet the demands. AZAD is all set to witness rapid ramp-up in the top line with each of its clients given the qualification process is already completed and all the business contracts / orders are in place. We are all set to grow a CAGR of over 50% over the next 5 years with an impressive and a sustainable bottom line. "