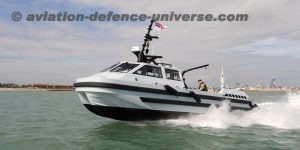 Greenwich, London. 14 September 2017.
 ATLAS ELEKTRONIK UK (AEUK) have been award of a contract from DE&S to provide specialist engineering support to the RN's Maritime Autonomous Systems Trials Team's (MASTT's) portfolio of equipment.
AEUK, leads in delivering innovative maritime systems including MASTT's trials platform RNMB HAZARD, will be providing maintenance, training and post design services for the duration of MASTT's activities in support of the Mine Countermeasures and Hydrographic Capability (MHC) Assessment Phase.
James Young, Head of AEUK's Surface Ship Systems Division, said 'AEUK have a long history in delivering and supporting unmanned systems around the world and are delighted to be able to apply our expertise to this key suite of equipment. The MHC programme is at a really exciting stage now and we are looking forward to working with the MOD to ensure that the best results are achieved through MASTT's trials programme.