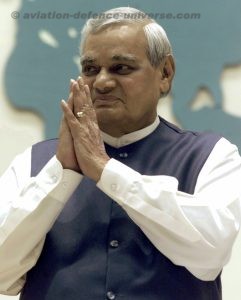 By Brig.VK Atray & Sangeeta Saxena
New Delhi. 17 August 2018. The last gentleman in the ungentlemanly world of Indian politics leaves the nation sad and sorry but stable on his legacy of security, foreign and economic policies. For a statesman who was not only an astute politician but also a great diplomat, Atalji will always be remembered for his humaneness and nationalistic spirit, in whatever the situation be.
Uncannily he died in the year when India and the world were celebrating twenty years of the second series of nuclear tests at Pokhran in May 1998 declaring India a nuclear power infront of the powers that be. He was firm and  righteous and withheld India strongly  in times of the sanctions which followed the tests. We need to prepare ourselves for keeping the nation secure and nuclear power is one way of doing it- we might never use it but we must have it- was the aim he had. And like a true statesman gave credit to the previous Congress government for having paved the way so well. It may be recalled that under PV Narsimha Rao, nuclear tests had been postponed in 1995 after the Americans discovered preparations in Pokhran.
Despite  a back stabbing by Pakistan and Kargil war happening Vajpayee always reiterated that , 'the road to peace with Pakistan passed through Jammu and Kashmir.' In a speech in 2003 he said that ''Insaaniyat (humanity), Jamhooriyat (democracy) Kashmiriyat (culture of Kashmir)'' are the three mantras for  peace in the valley. The nation remembers it as the Vajpayee doctrine and cannot forget his efforts in bringing peace to the valley.
Who can forget Vajpayee led  historic bus journey to Lahore in 1999 extending a hand of peace. But  the Lahore Declaration and  the warmth between India and Pakistan did not last long and Pakistan stabbed on the back and Kargil war happened. Vajpayee was very keen on peace with Pakistan but he did not hesitate in ordering military action. But  Kargil did not deter him from keeping his march for peace with Pakistan. In 2001, he invited Musharraf, who had then become President of the country, to Agra for a summit. But Musharraf once again spoiled the spirit of the summit by holding a controversial breakfast meeting with Indian editors.
Atalji's  efforts in extending his hand of friendship to China the other not-so-friendly neighbour are also remembered as steps ahead in  finding a peaceful solution to the long standing boundary dispute. India and China established the mechanism for talks between Special Representatives (SRs) on both sides for resolving the border issue in 2003.
Dragging relations with US were also stabalised during the Vajpayee regime. Bill Clinton the then US President visited India, making him the first President of America to visit India in 22 years and Vajpayee also visited  US the same year in September. The 'Moscow Declaration' signed in 2001 by Vajpayee and President Vladimir Putin also marked the reiteration of India's traditionally close defence and trade relationship with Russia.
Security and defence of the nation were supreme to him as a Prime Minister and after the attack on the Parliament he ordered Opeartion Parakram which arguably was a disaster as per analysts. The results could have been negative but the thought behind was very positive. The then Prime Minister wanted Pakistan to not gloat over what they had achieved by helping the terrorists attack Indian Parliament and a strong army at the borders seemed the only option then. Though the 10-month deployment ended without a conflict, though the two nations came close to war on at least two occasions. Many feel it was a knee jerk reaction to Parliament attack and even if it was what was wrong in it. Would the Prime Minister of any nation in this situation have sat as a lame duck and not reacted?
Ex DGMO Indian Army Lt. General Vinod Bhatia stated, "Great man he was. Most military leaders are very critical of the wasted opportunity during Operation Parakra. The question which he rightly asked his advisors and of himself was simple – 'I can start the war but where, when and how do I end the war'. The strategist and many of us warmongers will do well to remember this thought. Op Parakram achieved the politico military aim of raising the costs of Pakistan's  low cost high effect proxy war. Whereas India could afford and absorb the economic costs of a long mobilisation Pakistan on the other hand could and can ill afford the economic costs."
But another step taken by Vajpayee for peace has stood the test of time. On November 26, 2003, Musharraf and he announced a ceasefire on the LoC which is still officially on. He believed that there was a solution to every problem and it would emerge even if late. It is our duty to keep trying to reach the solution was his dictum.
If recalling any regret in a political decision taken by him it would be  Kandhar hijacking where he had to free the terrorists .  Vajpayee had convened an all-party meeting in which Manmohan Singh had participated as the Leader of Opposition. What could he or infact any other government have done in the situation? A planeful of innocent passengers if had been sacrificed, one can only shudder at how the nation would have reacted to it. Vajpayee did not have an option other than giving in to the demands of the terrorists.
13 days, 13 months and a full term put this thrice Indian Prime Minister's name in the annals of Indian history as a fearless politician, a precise decision maker,  a great one for facing challenges and one with nation first, which is difficult to find in one person forget one politician.  India has today in his death truly lost a leader and a citizen who lived and breathed for the country.