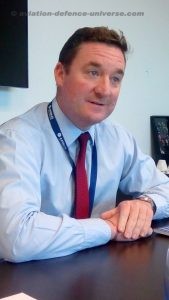 By Sangeeta Saxena
New Delhi/ Marignane. 26 January 2018. The first quarter of 2018 has begun and as per the Navy Chief's statement in his annual press conference so should have begun the countdown to taking a call on the NUH decision for Indian Navy. It may be recalled that the Defence Acquisition Council (DAC) approved the Acceptance of Necessity (AON) for the 111 NUHs in the month of October 2017.
"We are very optimistic that our Panther will be India's choice for the NUH," Executive Vice President, Global Business, Airbus Helicopters, Ben Bridge.
He was addressing a select group of journalists at the French manufacturing facility of the helicopter. "The Panther is the right product in the right moment and brings with it an opportunity for us to develop a facility there and to continue to produce those aircraft for the global market in India. India has an exciting ambition with 'Make-in-India' and we are already part of that, which we are delighted to be part of," he added.
More than 250 helicopters in the Panther/Dauphin family are in operation with more than 20 countries, including the US Coast Guard's fleet of around 100 MH-65s. It is fully qualified to operate from over 100 classes of NATO ships, and complies with NATO standardisation agreements (STANAGs) regarding tie-down fittings, fuel hoses and DC/AC electrical connectors.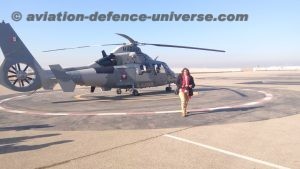 Ben appreciated the fact that Indian procurement systems are in the process of getting streamlined and that the recent years have seen improvements in the procedures. "India is our most exciting market considering the number of opportunities there, with some very ambitious and clearly stated programmes in the pipeline. So India is a top priority for us. We know these programmes take a long time to materialise, but we're committed to supporting India in the various programmes that are in the pipeline, like the NUH, NMRH, MRH. We're working with local suppliers and are looking at how we can work with local companies and help them graduate from Tier 2 to Tier 1 Suppliers," he stated.
The helicopter's use of a hydraulically-activated harpoon with deck-lock securing enables the AS565 MBe to land and take off from ship decks regardless of the wind direction and this makes the helicopter just the choice for India's needs keeping in mind the rough seas the Indian Navy has to operate in, he felt.
Ben also stressed that in the current scenario of turbulent political waters, the AS565 MBe is highly effective in anti-surface unit warfare missions (ASuW), including over-the-horizon targeting (OTHT) for ships with long-range anti-ship missiles. By acting as the ship's principal weapon system, it can search, classify, shadow and strike with precision well beyond the horizon. At Best Endurance Speed (VBE) the aircraft has a loiter time in excess of four hours.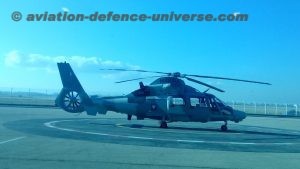 Panther will also be very easy to maintain as the modular mechanical assembly design, fiberglass Starflex rotor heads, composite tail rotor blades and airframe and 100-percent composite Fenestron contribute to significant reductions in maintenance time and costs, he added.
Commenting on the military market of Panther Ben Bridge reiterated that India is a  market Airbus took very seriously and are putting more focus on it at the moment. "We are extremely proud of our long-standing presence in India. India is already the largest Single User of the Dauphin, which is the Civil Variant of the Panther with  Pawan Hans Limited(PHL) having flown some 5,000 hours. We have 90 aircraft in India in a variety of sectors, of which, ofcourse, PHL has been a major operator. What excites us as a company is the atmosphere of partnership which we are about to build on, " he optimistically concluded.