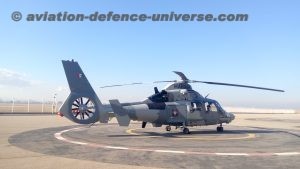 By Sangeeta Saxena
Marignane, France. 10 December 2017. India's shopping list for the Defence forces is long but this buying will happen only when the equipment is made in India. And the queue of the top foreign vendors to fulfil this need is long. Indian Navy which is on its way to become the most potent force in the politically turbulent seas, has a list of urgent requirements and the Naval Utility Helicopter is the most important need to boost its naval aviation.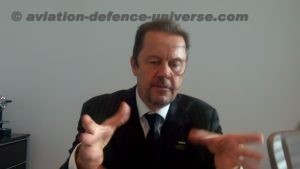 "We have a helicopter that will be a great asset to any Navy with mission capabilities which include anti-submarine warfare, anti-surface unit warfare, maritime surveillance, search and rescue, special operations , patrol, counter-terrorism, counter-piracy but its unique selling proposition are its two torpedoes. Panther carries two torpedoes with the capability to launch one above and one below the thermocline which is the greatest advantage we have against the competitors in the NUH bid. In addition it is the only helicopter  which has the deck lock system in place keeping in mind turbulent sea waters." stated Fabrice Cagnat, Director, Make in India, with Airbus Helicopters while speaking to the select group of Indian journalists who were on a visit to the Airbus Helicopters facilities at Marignane in France, recently.
The mood at the  facility nestled in the beautiful environs of the port town of Marseilles  was upbeat  as India's Defense Acquisition Council (DAC), chaired by Indian Minister of Defense Nirmala Sitharaman, has approved the procurement of 111 utility helicopters for the Indian Navy. The DAC on October 31 accorded the Acceptance of Necessity (AON) for 111 armed light naval utility helicopters (NUH) for the Indian Navy under the new strategic partnership policy of  Indian Ministry of Defence.
"Sixteen helicopters will be procured in fly away condition while the remaining 95 will be built in India by an Indian partner via joint ventures and technology transfers. Airbus Helicopters  has also got the Request for Information and is expecting the Request for Procurement. We are keeping our fingers crossed. We will move all our capabilities to India . For this we have already short listed nine locations around India and will finalise one out of them. Nothing is finalised yet but  the choice will be of the location to be near the sea which will make trials easy," Fabrice added. It may be recalled that Airbus Helicopters has announce a joint venture with Mahindra Defence for manufacturing the Panther in India, provided it gets the contract of the NUH.
On being asked if there were any challenges he saw in the contract Cagnat felt that  one was the L1 system of finalising the procurement and the fact that NUH has a wide technical requirement which allows much smaller machines also to participate. " But we are optimistic . We will go by the rules of the Defence Procurement Procedure (DPP) and will give the best Transfer of Technology(TOT). The training programme will be a mix of training conducted both in India and France. A group can come to France , get trained and go back to train others. We also plan to do the mid-life upgrades in India itself. We will transfer know-how so that the helicopters are made in India, so much so, that even upgrades, maintenance and modifications are done there." he informed.
Technically the  AS565 MBe Panther is a state-of-the- art flying bird, equipped with Starflex main rotor head with four glass / carbon-fibre blades,  Fenestron shrouded type tail rotor which is equipped with composite blades,  a retractable tricycle landing gear has an axially lockable castering wheel unit in the nose and two main wheels under the fuselage.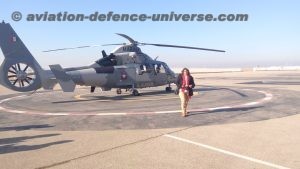 The basic operating and maximum take-off weights of AS565 MBe are 2,406kg and 4,500kg respectively. The helicopter has a cargo hook capacity of 907kg, fuel capacity of 1,135l and sling load carrying capacity of 1,600kg. The helicopter features a glass cockpit equipped with a four-axis autopilot with two Rockwell Collins primary flight multi-functional displays, two MFD 255 navigational displays, one large mission display, and one dual vehicle and engine management display to provide flight information to the crew,  featuring pilot and co-pilot seats with four-point shoulder harness. It has the capacity to carry 2pilots and 10 soldiers.
"The AS565 MBe is used on ships and from land bases, capable of carrying a variety of weapons. In addition to its own intercept and attack capabilities, it will be a "force multiplier" by providing over-the-horizon surface awareness and targeting to surface ships. It has an endurance of more than four hours at loiter speed, the AS565 MBe is an affordable alternative to other light/medium helicopters that are limited in their ability to perform its diverse range of naval missions. It surely will be an asset to Indian navy," he said.