By Sangeeta Saxena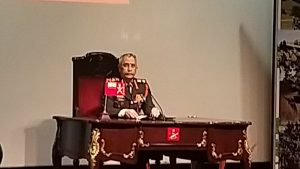 New Delhi. 11 January 2020. India Army has not lost sight of its main role, which is of fighting a conventional war , despite the forces' deep involvement in Counter Insurgency and Counter Terrorism operations, reiterated General MM Naravane, Chief of Army Staff in his first annual press conference .
"The short term requirement of getting involved in counter insurgency and counter-terrorist operations will remain for the possible future. But with the Rashtriya Rifles and Assam Rifles battalions who are facing the brunt of counter-insurgency and counter-terrorist operations, the regular army is training for its primary role which is the conventional war," he said. He explained that the army's perspective plan and evaluation of threats and challenges over the years was focussed on the western front. "We now feel that both the western and northern fronts are equally important. In that context, that rebalancing is taking place," he said.
He also clarified that in case of simultaneous threats from both Pakistan and China, there will be a primary front and a secondary front. "The bulk of our forces and resources will be concentrated on the primary front. On the other front, we will adopt a more deterrent posture, so that we are not found wanting," he said.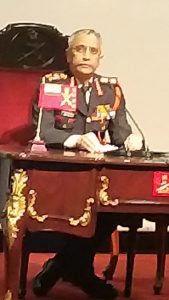 He added that dual-task formations that are ready to shift from the western to the eastern front and vice versa gain importance in this situation and in this manner, the Army will be able to deal with both fronts to ensure territorial integrity is not compromised.
General Naravane elaborated , "we have to balance out our requirements and deployments to cater for both west and north. For the northern frontiers, we are going for capacity building, which include building roads to forward areas, habitats, storage for ammunition and moving some of our advanced weapons system to eastern side. In a way of balancing out we can meet a threat from any direction. As a result of this rebalancing, we are now prepared for this challenge."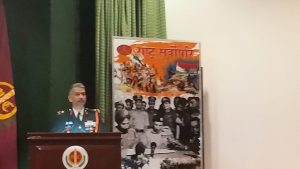 He said that the long term threat will always be conventional war and preparations in terms of improving training and new acquisitions are being made. Stressing that training, integration, personnel and quality of equipment will be high on his priorities as Chief of one of the biggest army's of the world he stated that quality not quantity, will be the mantra of the Army in training for future warfare and the focus of training will be on preparing soldiers for future wars which will be networkcentric and complex. "Men behind the machine matter the most. We will make sure that our men get the best and we will look into all their aspirations and needs," General Naravane affirmed.
"The armed forces give allegiance to the Constitution of India. In fact be it a jawan or an officer, we take an oath.That is what should guide us in all our actions and at all times. This translates into the core values that define the preamble to the constitution- justice, liberty, equality and fraternity, " he said in his opening remarks. Later answering a question the Chief said that the Army is of the people and for the people and it will not go wrong in the discharge of its duties which is to uphold the constitution in what it stands for, the core values that are enshrined in and the fundamental rights which are guaranteed to all the citizens.
Responding to a question on whether his army will get back POK for the nation, he stated, "there is a parliamentary resolution that entire Jammu and Kashmir is part of India. If Parliament wants that area (PoK) should be taken we will definitely do so and appropriate action will be taken accordingly." And as expected this statement got an instant response from Pakistan's Director General of Inter-Services Public Relations (ISPR) Major General Asif Ghafoor who tweeted, " statements by Indian COAS to undertake military action across LOC are routine rhetoric for domestic audiences to get out of ongoing internal turmoil. Pakistan Armed Forces are fully prepared to respond to any act of Indian aggression ."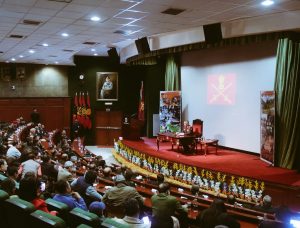 General Naravane pointed out that the integration within the Army and among the three services will be the focus and said, "The formation of the CDS and the creation of a department of military affairs is a very big step towards integration. We on our part will make sure that this is a success. Integration will also be within the Army and the integrated battle group is just one example of that. But I also want to assure everyone that in this process of integration we will take everyone along. Nobody will be left behind."
"Indian Army is a professional Army & conducts itself in the most professional & ethical manner in peace, on the LC & in combat. Professional armies never resort to barbaric acts," concluded the Chief.