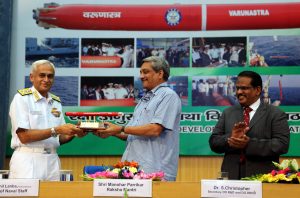 New Delhi. 29 June 2016. The anti-submarine torpedo Varunastra developed by Naval Science and Technological Laboratory of the DRDO for the Indian Navy became a part of the force today.
All uncertainties were put to rest which had arisen with the recent cancellation of a deal to procure Black Shark Heavyweight Torpedoes for both  Kalavari class Diesel submarines and Nuclear Arihant class submarines, when the Minister for Defence Manohar  Parrikkar handed over the made in India heavy weight torpedo Varunastra to the Indian Navy.
The first indigenous state-of -the-art heavy weight ship launched anti-submarine electric torpedo it is capable of targeting quiet and stealthy submarines, both in deep and littoral waters in intense countermeasure environment. This torpedo can achieve speeds in excess of 40 knots and is powered by an electric propulsion system with multiple 250 KWs Silver Oxide Zinc (AgOZn) batteries. Varunastra had completed user trials and was to be inducted into the Indian Navy in March 2016. But keeping in mind DRDO's track record three months delay is not bad at all.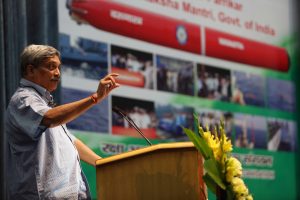 "Job of DRDO  is not over once they get a trial product in the market. This product  is not only for Indian navy but also for an export market. I have got a verbal clearance from Navy Chief too. Demand may increase as per quality of standards of the product. From 73 it can be more. Vendor development and outsourcing does not mean quality is compromised. DGQA cannot be adequate in the task.  DRDO should put a small team with Bharat Dynamics Limited right till they settle the task. DRDO must handhold for at least some time," said the Minister.
Varunastra has been designed with latest technologies such as high speed and long endurance propulsion, software driven intelligence, conformal array acoustic homing with wide look angle and advanced digital signal processing. It is also having advanced autonomous guidance algorithms with low drift navigational aids, insensitive warhead which can operate in various combat scenarios. Varunastra exercise variant has integrated instrumentation system for recording all the dynamic parameters of the weapon, redundancy in recovery aids in case of emergency shut down or malfunction.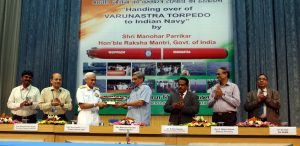 The Chief of the Naval Staff, Admiral Sunil Lanba termed the occasion as momentous and described it as yet another feather in the DRDO's cap. He applauded DRDO and Naval Science and Technological Laboratory (NSTL) for rendering yeomen service to the nation in achieving self-reliance in defence and underwater technologies. He said the Navy's partnership with DRDO laboratories has strengthened and matured over the years. 'The fact that three of the premier DRDO labs NPOL, NMRL and NSTL carry the prefix 'Naval' in their names highlights the close relationship between the Indian Navy and the DRDO in our joint efforts', Admiral Lanba stated.
It has GPS based locating aid, a unique feature in contemporary torpedoes in the world. Varunastra is extensively tested at sea in association with Indian Navy for evaluating the weapon capabilities as per Naval Staff qualitative requirements. The weapon has completed all environmental qualification tests like shock, vibration, temperature cycling, marine environmental tests, EMI/EMC tests etc.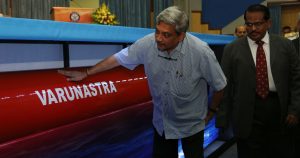 Secretary, DD R&D and DG DRDO Dr. S Christopher in his address described the induction ceremony of Varunastra as a proud moment for the nation as India has joined in the elite group of only a handful of countries. He commented that the development of submarine launched heavy weight torpedo is in advanced stage for user trials. Dr. Christopher mentioned that Varunastra, the shipborne anti-submarine torpedo has got the goodwill of Navy as a user which has decided to produce 73 of them, immediately.   He briefly mentioned that last year Mareech – Advance Torpedo Defence System was handed over to Indian Navy. He also highlighted the DRDO developed LCA – Tejas, the first Squadron of which is being raised by IAF on July 01, 2016. The AEW&C is also striding towards induction into IAF this year. Recently, another milestone has been achieved by BrahMos, a Joint Venture of DRDO which successfully demonstrated captive trials with Su30 aircraft, he stated.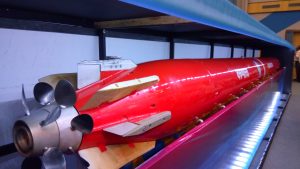 This torpedo has been developed with high degree of modularity with more than 95 per cent indigenous content. All the test systems, accessories, special tools and handling equipment are developed simultaneously, enabling smooth maintenance, sourcing of spares, industry support and up-gradation.  Bharat Dynamics Ltd. has been associated with NSTL in the development of Varunastra as a production agency.