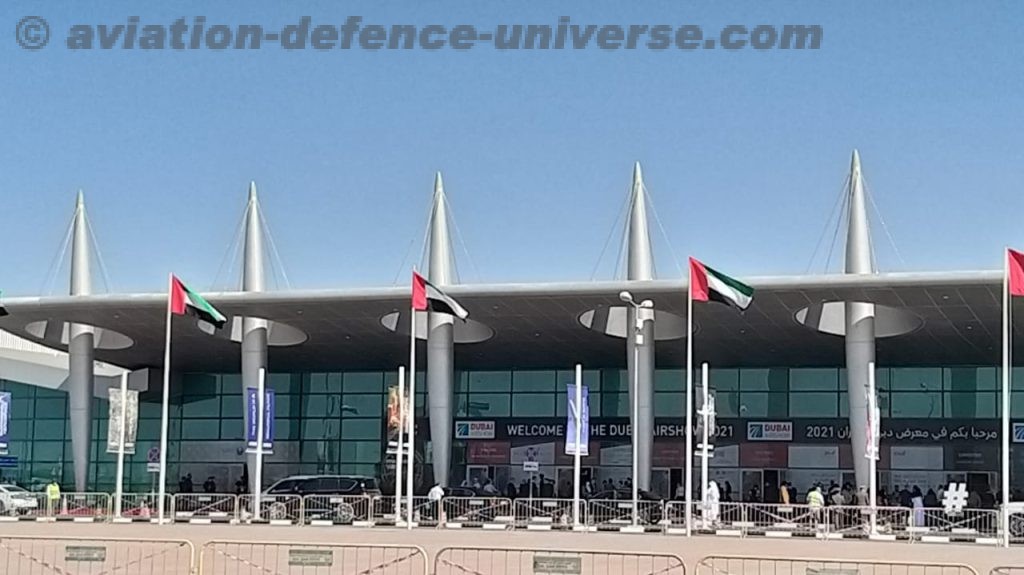 By Team ADU
Dubai. 19 November 2021. The Dubai Airshow just wrapped up and what a week it was! It was just like pre-covid airshows where the thousands were teeming and jostling inside the alleys of the Hall and around the static displays. The only reminder that the world has been facing a pandemic were the masked faces. It was business as usual or seemed like it with delegations visiting pavilions, crowds clicking pictures of the static and flying displays. Innovations and equipment were showcased to attract the potential customers, the big, the small and the new all were vying for media attention to let the world know they were back with elan'.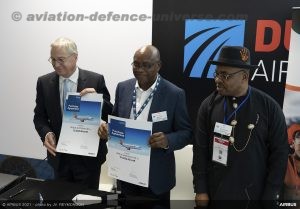 Airbus zoomed ahead of all its competitors with closing deals for 289 A321neos, 49 A321XLRs, 28 A220-300s, 7 A200-100s, 20 A320neos, 4 A330neos and 7 A350Fs. They Day1 got the unbelievable order of 255 A321neos from Indigo Partners where the division will be between Wizz Air, Wizz Air Abu Dhabi, Jet Smart, Volaris and Frontier Airlines.
The leasing sector also placed its faith in Airbus with Air Lease Corporation converting options of 25 A220-300s into firm orders. This was in addition to buying 55 A31neos and 20 A321XLRs. ALC also placed an order for 4 A330 neos . But the catch was ALC becoming the launch customer for A350 Freighter with 7 ordered. Not to forget the MoUs signed with Kuwait's Jazeera Airways for 20 A320neo's and eight A321neo's, plus five options and Nigeria's Ibom Air decided to buy three A220-300s and seven -100s. The sun definitely was shining bright after corona clouds for the European aircraft major.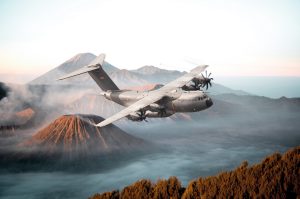 Airbus' haul doesn't end with its commercial aircraft. The Indonesia Ministry of Defence has placed an order for two Airbus A400M aircraft in multirole tanker and transport configuration. The contract, which will become effective in 2022, will bring the total number of A400M operators to ten nations. The agreement includes a complete maintenance and training support package. A Letter of Intent was also signed for the future acquisition of four additional A400M aircraft.
The city of Dubai will remember the Airbus for kicking off the show by sharing Airbus' vision for the future on one of the most iconic buildings in the world. On Saturday, November 13, Airbus launched its new international brand campaign in a light show on the facade of the Burj Khalifa, an iconic landmark of Dubai.
Visitors had the opportunity to explore Airbus' aircraft including the A350-900 MSN 2 (Airspace Explorer), Ethiopian Airlines' A350-900, Uganda Airlines' A330neo, Air Arabia's A321LR, WizzAir's A321LR and AirBaltic's A220. Also making an appearance was Acropolis Aviation's ACJ320neo aircraft. In the customers' display, Emirates Airline presented its A380 and Etihad Airways showed the A350-1000. Airbus Helicopters showcased the Kuwait Air Force aircraft H225M, along with an ACH175 as well as a mock-up of the H145M, and a scale model of the H175M. Airbus Defence and Space presented a C295 and an A400M airlifter on the static display.The daily flying display included Airbus' own A350-900. Showgoers had the opportunity to see the ACH145 in flight as it performed customer demos at the South terminal.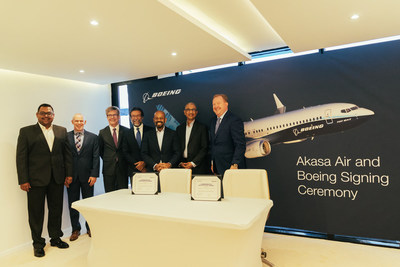 And no airshow story can be complete without discussing the other major aircraft manufacturer-the American Boeing- which had a major presence at Dubai. It sold 78 new aircraft with the biggest order coming surprisingly from an Indian start-up airline Akasa Air for 72 737 MAX 8s and 8 737 200s . Africa's Air Tanzania bought a 787-8, one 767-300F, plus two 737 MAX 8s. Host country's airline Emirates ordered two 777Fs. Sky One FZE purchased three 777-300s from Boeing Capital Corporation.
Boeing's business didn't stop with sale of aircraft. SAUDIA selected Boeing for a suite of services to improve their 787 Dreamliner and 777 fleets' operational efficiency through digital analytics, and to modify their 777 cabin interiors. Boeing and Russian titanium producer VSMPO-AVISMA signed a Memorandum of Understanding (MOU) affirming that VSMPO-AVISMA will remain the largest titanium supplier for current and future Boeing commercial airplanes. The logistics company DHL Express (DHL) placed a firm order for nine more 767-300 Boeing Converted Freighters (BCF).
Boeing's announcement to add three conversion lines for the 737-800BCF across North America and Europe, created a flutter. The company also signed a firm order with Icelease for eleven of the freighters as the launch customer for one of the new conversion lines. In 2022, the company will open one conversion line at Boeing's London Gatwick Maintenance, Repair & Overhaul (MRO) facility, its state-of-the-art hangar in the United Kingdom; and two conversion lines in 2023 at KF Aerospace MRO in Kelowna, British Columbia, Canada.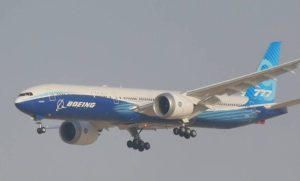 And on all the days of the show the huge Boeing 777-9 flight-test airplane soared in the skies above. The company's static display also featured the 2021 Boeing ecoDemonstrator, an Alaska Airlines 737-9 that is flight testing about 20 technologies to reduce fuel use, emissions and noise and further improve safety. In addition, Etihad Airways displayed a 787-10 Dreamliner and flydubai a 737 MAX 8.
Boeing Defense and Space also had a strong presence in Dubai with strong discussions on F-15EX Eagle II fighter jet and T-7A Advanced Pilot Training System, as well as its Autonomous Systems portfolio, including the Boeing Airpower Teaming System and the Insitu Integrator ER and ScanEagle unmanned systems. On display were it's MV-22 Osprey, KC-46A Pegasus, P-8A Poseidon, C-17 Globemaster III, AH-64 Apache and CH-47F Chinook.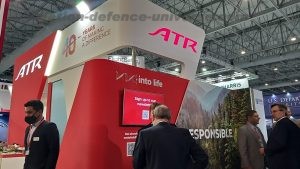 European turboprop maker ATR as in all shows was less spoken of but had a fruitful show at Dubai with total orders and purchase rights for 24 aircraft, including five 72-600s with the new Pratt & Whitney Canada PW127XT-M turboprop engine for Air Corsica, the launch customer for the new engine. Binter Canarias bought four -72-600s and TAROM and Afrijet three each. Japan's Toki Air signed a purchase right for one 42-600 plus one 42-600S, the short take-off and landing version that is still under development by ATR. There were orders for seven more aircraft from undisclosed customers.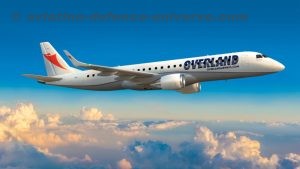 Brazilian aircraft manufacturer Embraer has secured a firm order for three E175 regional jets and purchase rights for three more from Nigeria's Overland Airways, valued at $299.4 million at list prices. Embraer attracted attention in Dubai for it's outlook announced at the show. It also announced its new aeronautical project, which will focus its efforts on the development of 70 (TP70 model) and 90-seat (TP90) turboprops. Embraer's president and chief commercial officer, Arjan Meijer, informed that their equipment could be on the market by 2027, and will be able to run entirely on sustainable aviation fuel.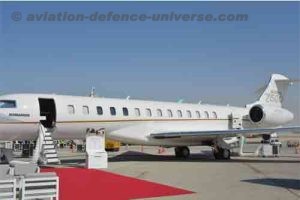 The Canadian aircraft manufacturer Bombardier Aerospace showcased a diversified portfolio of its business and commercial aircraft, its technical expertise and its customer support and aircraft maintenance services. Bombardier's static display featured three aircraft including the wide body Challenger 605 jet, the large Global 6000, and the Q400 NextGen turboprop airliner.
The Royal Thai Air Force (RTAF) has awarded Textron Aviation Defense a US$143.4 million contract to supply a fleet of eight Beechcraft AT-6TH Wolverine light attack turboprop aircraft as well as ground support equipment, spare parts, training, and ancillary equipment.
Dassault Aviation was also showcasing combat and business jet aircraft including its upcoming Falcon 6X and Falcon 10X executive jets. The French aircraft manufacturer also had the recently updated 16-passenger Falcon 8X tri-jet on static display, and its Rafale C combat jet was participating daily in the show's flying display.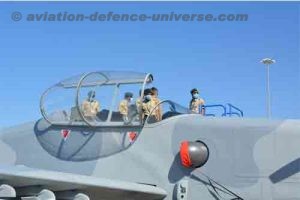 But the cynosure of all eyes was the United Arab Emirates (UAE)-based Calidus which had showcased a new 'light attack' turboprop at the Dubai Airshow 2021, named the B-350. A full-scale mock-up of the single-engined twin-seat platform was shown publicly for the first time. It was an armoured version complete with a prospective weapons fit which had domestically-developed air-to-surface bombs, rockets, and missiles for offensive operations, as well as air-to-air missiles for self defence. It was a showcase of UAE manufacturing prowess.
This year's Dubai Air Show was a treat to watch on the tarmac where stood the most beautiful metallic birds . These aircraft were the major attraction both in the sky and on the ground.