Farnborough, UK. 18 July 2022. Project Able, from Aerobility, is showing its newly enhanced Grob G109B Able on the flight line, just 14 months on from the formal launch of the programme.
Aerobility, the UK's leading aviation charity offering disabled people, without exception, the opportunity to fly led by Mike Miller-Smith MBE, CEO highlights that the G109B is one of, if not the most 'sustainable aircraft of the show. Not only is the G109B Able the result of the ultimate repurposing project, unleashing a new lease of life to the former military trainer Grob G109B motorgliders, but this new aircraft is also delivering a circa 40% reduction in fuel burn.
With a complete airframe overhaul, state-of-the-art Garmin avionics and options, new Rotax engine and MT Propeller, the 'Able's' performance and handling has been radically enhanced, while the fuel consumption has been significantly reduced.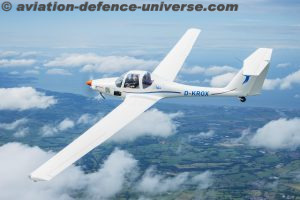 Grob Able's fuel injected Rotax 912 iSc fuel efficient engine is certified to run on sustainable vehicle fuel such as E10, resulting in lower carbon emissions. Its glider design and MT hydraulic constant speed propeller also brings highly efficient operations, for example 100 knots is achieved burning just 11.7L per hour.
UK Government backed initiative
Aerobility's Project Able is a unique, award-winning and UK Government-backed programme, which centres on returning former RAF training aircraft to societal use, including disabled flying. Just last month the charity accepted its first Grob Able at its HQ at Blackbushe Airport, following sales to individual customers David Pilkington and world-renowned display pilot Guy Westgate. Aerobility plans to introduce up to 6 more to its fleet whilst at the same time marketing and selling the aircraft commercially, in a unique collaboration with Germany's Grob Aircraft and Southern Sailplanes in the UK. The price for individual purchases start at £156,000 but for training organisations and Governments looking for bulk purchase then deals for up to 30 aircraft are available. It is the ideal aircraft to support young people's introduction to flight and even deliver a flying platform for STEM education such as Zero G experiments.
Potential and broad customer base
"The diverse and global audience that attends Farnborough Show presents the best opportunity to date to show the aircraft to prospective customers – flying and training organisations, military and cadet operations, corporates sponsoring STEM activities and private individuals – the impressive and versatile Able has broad appeal, he said.
Thanks to organisers Farnborough International, we are also proud to support Friday's next gen STEM activities and also present our Building the Dream Zenair CH750 STOL aircraft at the world's second biggest airshow – a new member of our fleet built from scratch, one rivet at a time, by disabled aviators to train disabled aviators, we believe this to be another world first, commented Mike Miller-Smith.