The teeming crowds missing
UK Prime Minister hopeful of aerospace business as usual
By Sangeeta Saxena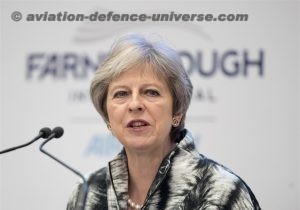 Farnborough. 16 July 2018. It was a Farnborough with a difference this time. The customary traffic jams on the streets of Farnborough Road, the long unwinding queues at the Gates to enter and the teeming Day1 crowds inside the Halls and on the pathways were all missing. Quite evident that something had changed and a  lot missing.
Yes we were at a show under the hovering dark clouds of Brexit and scepticism seemed to be every where. British Prime Minister Theresa May's  arrival with Airbus CEO Tom Enders at the show did not put majority minds to rest. And as if this was not enough, looming large is also the shadow of a trade war between China and the United States. Trump's administration recently imposed 25-percent tariffs on $34 billion of Chinese imports and Xi's China retaliated with tariffs on the same amount of U.S. exports to China.
 But Theresa May projected an all is well and will be well scenario. While formally inaugurating the show she  reiterated,  "we are leaving the European Union and forging a new future for our country and, as we do so, want to ensure that the UK remains one of the best places in the world for aerospace companies to do business in."
May in her speech at the show announced £343 million (US$456 million, €389 million) in public-private investment in innovative research and development, including new electric aircraft technology. She announced a new £2.0 billion programme with Italy's Leonardo to design a new generation fighter jet. "Today I can announce that the government will join with BAE Systems, Leonardo, MBDA and Rolls Royce to fund the next phase of the Future Combat Air System Technology Initiative through a ground-breaking partnership known as Team Tempest," she said.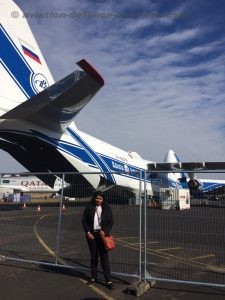 Despite these dampeners , deals  and announcements did pep up spirits by the day end. Airbus will be selling 10 A350 at a list price of US$2.8 billion,  India's Vistara signed a letter of intent to purchase 13 single-aisle A320neo aircraft and  Taiwan's Starlux Airlines signed a memorandum of understanding for the purchase of 12 A350-1000s and five A350-900s. Goshawk Aviation, a 50/50 joint venture owned by Hong Kong-based NWS Holdings and Chow Tai Fook Enterprises, also signed for 20 737 MAXs. Omani budget carrier Salam Air announced an acquirement of  six A320Neos and  Wataniya Airways firmed up its outstanding commitment for 25 A320 Neos.
Boeing also announced a deal including 14 777s to DHL for US$4.7 billion and 30 737 MAX for Jackson Square Aviation for US$3.5 billion. Romanian TAROM five MAX 8s and Brazilian carrier Gol firmed up 15 MAX 8s and 30 MAX 10. The icing on today's cake was the announcement  of an $8.8Bn order for 75 737 MAX 8 from Jet Airways.
 Embraer signed a firm agreement with United Airlines to supply 25 E175s valued at a combined $1.1bn , the delivery for which will start from the second quarter of 2019.