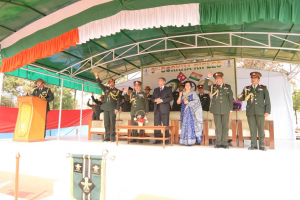 By Col NB Saxena
New Delhi, 05 February 2017. Bicentenary Celebrations to mark the 200 years of 9 Gorkha Rifles were organized at Pension Paying Office Pokhara on 04 February 2017. More than 3500 ex-servicemen and families of 9th Gorkha Rifles participated in the event.
After an initial tribute to the Martyrs, Colonel Man Raj Singh Mann, Defence Attaché welcomed all and apprised them about the history of 9 Gorkha Rifles. The gathering was then addressed by General Rajendra Chhetri, COAS, Nepal Army, Ranjit Rae, Ambassador of India to Nepal and Lt Gen AK Bhatt, Colonel of the Regiment 9 Gorkha Rifles.
The veterans also witnessed a special performance by the Brass and the Pipe Bands of the 39 Gorkha Training Centre. War widows and veterans were felicitated on the occasion.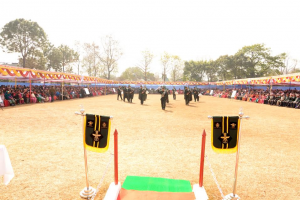 9 Gorkha Rifles has five battalions and its history dates back to 1817. The Regiment has distinguished itself in many battles and campaigns in the First and Second World Wars and all the battles fought after Independence. The Regiment fought the battle of Mesopotamia, Malaya, Middle East, Central Mediterranean and Burma Front. Third and Fourth Battalion of the Regiment took part in 'CHINDITS OPERATION' which operated behind the enemy lines and waged a guerilla war. Since 1947 the Regiment has fought in the wars of 1947-48, 1962, 1965 and 1971 and earned Battle Honours of Phillora, Kumarkhali and Dera Baba Nanak.
Year 2017 marks the Bi-centenary of 9th Gorkha Rifles for which similar events are being organized at many places in India, but the commencement of the entire celebrations has been done from Nepal.