Tempest cynosure of all eyes at FIA2018
By Sangeeta Saxena
Farnborough. 19 July 2018. As always the Eurofighter Typhoon outside the BAE Chalet attracted visitors non-stop into their cockpit- specially so when numbers of fighters virtually dwarfed by the presence of commercial aircraft at the air show – but this time the cynosure of eyes is the Tempest the European future combat air system inside the BAE pavilion.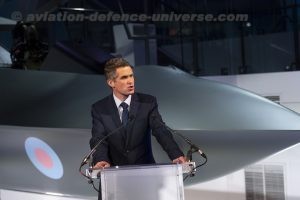 The Tempest the future fighter concept of Europe was unveiled  at Farnborough on 16 July as part of the UK Ministry of Defence's new Combat Air Strategy announcement. In 2018 it was a peep into the future air combat strength of 2030s Europe. UK Defence Secretary Gavin Williamson announced the development of a new combat aircraft that has been designed Tempest. UK Defence Secretary Gavin Williamson announced the development of a new combat aircraft and outlined the strategy in front of a mock-up of the Tempest, a next (6th) generation combat aircraft developed by Team Tempest.
The Royal Air Force's  Rapid Capabilities Office (RCO) is responsible for Team Tempest . It will be the joint effort of  BAE Systems , Rolls Royce, Leonardo and MBDA to get this futuristic aircraft together. Rumoured to get  £2 billion in initial funding, BAE Systems will be responsible for advanced combat air systems and integration, Rolls-Royce  for advanced power and propulsion systems, Leonardo for advanced sensors, electronics, and avionics and MBDA  for advanced weapon systems .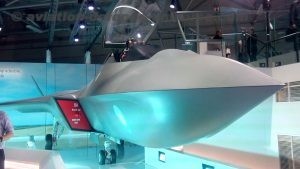 "We have been a world leader in the combat air sector for a century, with an enviable array of skills and technology, and this Strategy makes clear that we are determined to make sure it stays that way. It shows our allies that we are open to working together to protect the skies in an increasingly threatening future – and this concept model is just a glimpse into what the future could look like," Williamson said.
Tempest is a proposed stealth fighter aircraft concept to be designed and manufactured in the United Kingdom for the Royal Air Force. The Tempest will incorporate a host of new technologies meaning the British aircraft would join the growing group of sixth-generation jet fighters now on the drawing board.
Chief of the Air Staff Air Chief Marshal Sir Stephen Hillier, said, " The Combat Air Strategy will bring together the best of our people, industry and international partners to support the RAF lift-off into the next century of air power. Team Tempest demonstrates our commitment in ensuring that we continue to build our capabilities, draw upon our experience and history to bring forward a compelling vision for the next generation fighter jet. In last 100 years, the RAF has led the way and today's announcement is a clear demonstration of what lies ahead.
A closely guarded secret Tempest will eventually replace the Eurofighter Typhoon a decade and a half later. It will be either be flown traditionally by pilots or as a drone and  will be deployed in conjunction with the RAF F-35s.  The full operational capability is expected to be achieved in 2035.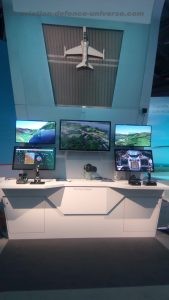 Eurofighter Jagdflugzeug GmbH CEO, Volker Paltzo in a press conference at the FIA 2018 said, "Eurofighter Typhoon is the benchmark for European collaboration – now and in the future. Eurofighter will be a central pillar of any European FCAS, and has a key role to play in this future system, operating alongside any existing or new European assets that may come into play in the future battle space – across all mission scenarios. I firmly believe that Eurofighter Typhoon is the best platform to carry, demonstrate and certify a whole host of technologies and deliver them as a mature capability for Europe."
The MOD will now set up a dedicated team to deliver the combat air acquisition programme. They will deliver a business case by the end of the year, and have initial conclusions on international partners by next summer – with engagement with potential partners beginning immediately.
Clemens Linden, Eurojet TURBO GmbH CEO, speaking on behalf of the Eurofighter engine consortium during Farnborough International Air Show, said: "Eurofighter, with the EJ-200 engine, already has the best engine in its class in the world today. But we can make it even better, delivering a 15% increase in thrust, to ensure that Eurofighter Typhoon can maintain its combat edge in the future."
The configuration of RAF Tempest is based upon the following five points:
Connected and Co-operative: Reconfigurable Communication Systems and Scalable Autonomy
Affordable: Advanced Power & Propulsion System, Automated Support Options and Advanced Digital Processes and Tools
Capable: Next-generation Flight Control System, Advanced Radio Frequency Sensors, Advanced Active and Passive Electro-optical Sensors, Balanced Survivability Design, Integrated Sensor and Next-generation Counter-measures, and Distributed Multi-spectral Sensors
Upgradable: Physical Architecture — "Designed for Growth"
Flexible: Virtual Cockpit Design and Flexible Payload Configuration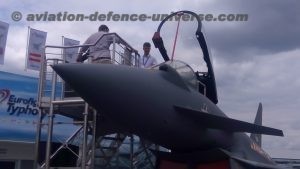 The buzz was Tempest will be not only be much advanced and state-of-the-art but also half the cost of F-35. But none was ready to comment on this statement. So the story  will definitely have a follow up. After all price is the most important factor once it enters the export market. If the era of L1 continues in the prospective markets, Tempest will have to be compatible on this front too. So lets wait and watch for further announcements.