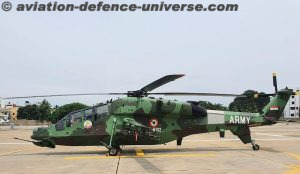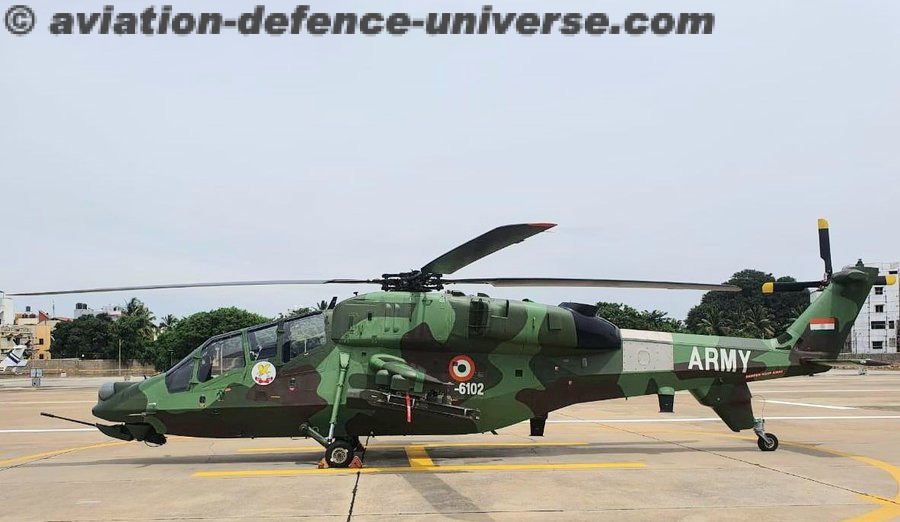 New Delhi. 29 September 2022. It was a day of elation for the Indian Army and pride for Army Aviation Corps, when the indeginiously designed & developed Light Combat Helicopter
LCH
was formally inducted into the force
.
The first  helicopter was formally received by Director General Army Aviation Corps , Lt Gen A. K. Suri from  the manufacturer Hindustan Aeronautics Limited (HAL) in Bangalore.
The HAL Light Combat Helicopter (LCH) is a multirole combat helicopter, designed to perform various attack profiles, including relatively high altitude flight. The design and development of the LCH was done in-house, by the Rotary Wing Research and Design Centre (RWR&DC), an internal design office of HAL dedicated to the design of helicopters.
Equipped with a two-person tandem cockpit to accommodate a pilot and co-pilot/gunner, it has been developed to perform both the anti-infantry and anti-armour missions. In addition to these roles, the LCH is intended to be used for a variety of operational purposes, such as to perform air defence against slow-moving aerial targets, including both manned aircraft and unmanned aerial vehicles (UAVs), participation in counter-insurgency operations (COIN) and Counter Surface Force Operations (CSFO), the destruction of enemy air defence operations and wider offensive use during urban warfare conditions, escort to special heliborne operations (SHBO), support of combat search and rescue (CSAR) operations, and armed aerial scouting duties.
In terms of its basic configuration, the LCH possesses a relatively narrow fuselage and is equipped with stealth profiling, armour protection, and is equipped to conduct day-and-night combat operations. According to reports, the protective measures included in the rotorcraft includes a digital camouflage system, an infrared (IR) suppressor fitted to the engine exhaust, and an exterior covered by canted flat panels to minimise its radar cross-section (RCS). It is furnished with an integrated dynamic system, including a hingeless main rotor and bearing-less tail rotor, which works in conjunction with an anti-resonance isolation system to dampen vibrations.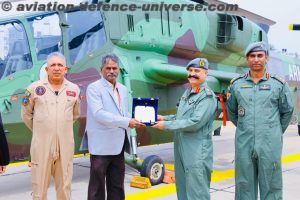 The LCH had inherited many of its technical features from one of HAL's earlier indigenous rotorcraft, commonly known as the HAL Dhruv. Shared elements between the two helicopters include the power-plant used, both being powered by a pair of co-developed HAL/Turbomeca Shakti-1H1 derived from Safran Ardiden turboshaft engines, albeit fitted with infrared suppressors. The features that are unique to the rotorcraft includes its narrow fuselage, a crashworthy tricycle landing gear arrangement, crashworthy self-sealing fuel tanks, armour protection, and a low visibility profile; these design elements have been attributed as having resulted in a relatively lethal, agile and survivable rotorcraft. Atypically for a combat helicopter, it shall also be capable of high-altitude warfare (HAW), possessing an in-service operational ceiling of 6,000–6,500 metres (19,700–21,300 ft).
The LCH is furnished with a glass cockpit which accommodates an Integrated Avionics and Display System (IADS) which used an array of multifunction displays in conjunction with the onboard target acquisition and designation (TADS) system. A prominent element of the TADS system is the helmet mounted sight (HMS), which serves as the principal instrument for targeting and triggering the rotorcraft's armaments. The LCH is protected via an extensive electronic warfare suite which is provided by the South African division of Saab Group; this suite comprises various defensive elements to guard against several different threats, these include a radar warning receiver (RWR), laser warning receiver (LWR) and a missile approach warning (MAW) system.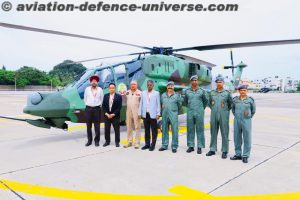 The LCH is equipped with an integrated data link, which enables the type to participate in network-centric operations by facilitating the transfer of mission data to other platforms, comprising both airborne and ground-based elements. This networking capable is said to facilitate operational cooperation and force multiplication practices. The onboard sensor suite is Elbit CoMPASS, produced locally by Bharat Electronics Limited. It consists of a CCD camera, a forward looking infrared (FLIR) imaging sensor, a laser rangefinder and a laser designator to facilitate target acquisition under all-weather conditions, including under nighttime conditions. The series production variant will come with Integrated Architecture Display System (IADS) and Automatic Flight Control System (AFCS) which are locally developed by HAL with private sector industries.
During 2006, it was announced that HAL had selected the M621 cannon to serve as the gun armament of the helicopter. The M621 cannon is incorporated in a Nexter-built THL 20 turret and integrated into a helmet-mounted sight. Various missiles can also be equipped upon the LCH; these include a maximum of four 70 mm anti-tank guided missiles – options are to include both foreign and Indian-built missiles, the latter in the form of the Helina anti-tank missile. In terms of air-to-air missiles, the LCH shall be capable of being armed with the MBDA Mistral 2 missile. Payloads of rockets are also available as offensive options for attacking targets with.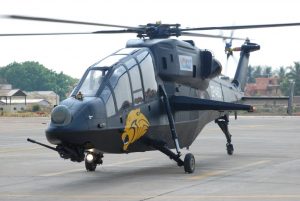 During November 2016, the Indian Ministry of Defense (MoD) authorised the purchase of an initial batch of 15 LCHs with 10 for the Indian Air Force (IAF) and 5 for the Indian Army Aviation Corps (AAC), referred to as being a limited series production order. By mid-2017, the AAC had placed combined orders for 114 LCHs, while the IAF had a total of 65 LCHs on order. During early 2017, it was reported that the LCH's initial operating capability (IOC) with the Indian armed forces was expected to occur by 2018. In January 2021, government gave initial approval for the production of an initial batch of 15 LCHs.  On 1 June 2022, an attack squadron was raised by the Army Aviation Corps in Bangalore. A total of seven squadrons are planned, each with ten helicopters.