India comes to age in the international polity of the region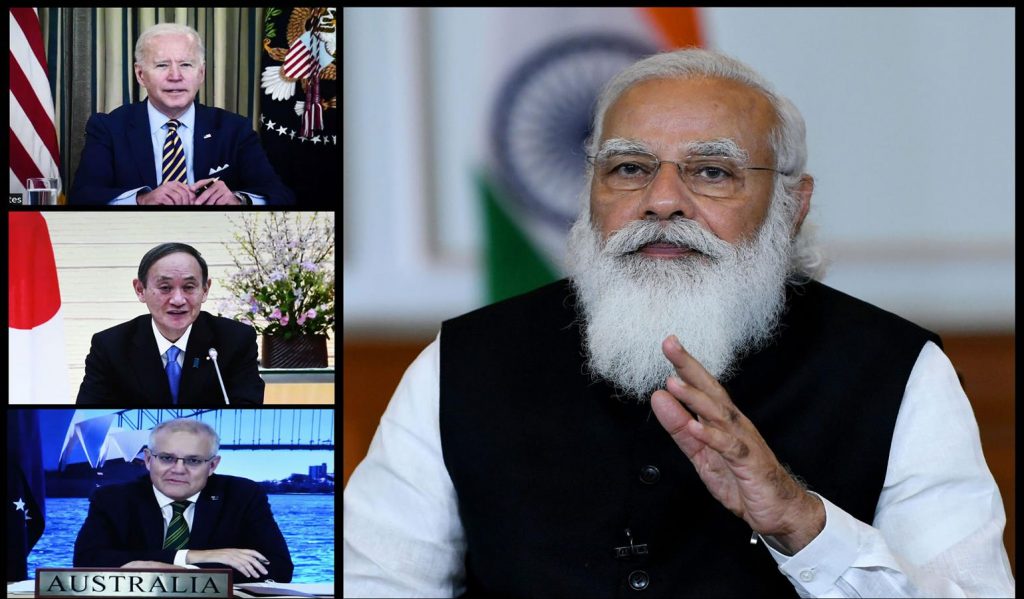 By Sangeeta Saxena
New Delhi. 13 March 2021. International alliances, groups and organisations are normally created to either support an issue , thwart an idea , stand in unison against a burgeoning negative influence, create a positive environment , flex muscles towards a common adversary, jointly maintain peace and tranquillity and at times fight for each others causes. The list of reasons could be endless but the aims are always two – first create an economic balance of power and second to maintain a joint military readiness . And Quad which caught world eyeballs recently when the four leaders of the world from India, US, Australia and Japan met virtually in corona times to show their one-upmanship against a common adversary who has created a threat perception, is also a statement of unity for Indo-Pacific.
In the world of twenty first century when bipolar alliances of the cold war are associations of the past, regional stability is not a matter of concern to the countries of the region alone but also to the world as a whole , to balance international waters, manage geopolitical rivalries, shape foreign policies , create economic stability and gain strategic power. The Quadrilateral Security Dialogue popularly called Quad is an strategic forum between Australia, India, Japan and the United States and is maintained by semi-regular summits, information exchanges and military drills between member countries.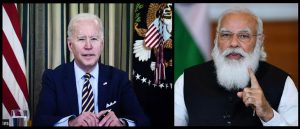 Indian Prime Minister Narendra Modi, US President Joe Biden, Australian PM Scott Morrison and Japanese PM Yoshihide Suga sent a strong and straight message when Quad was convened for the first time at the leaders' level. They pledged to promote a free, open rules-based order, rooted in international law to advance security and prosperity and counter threats both in the Indo-Pacific and beyond it.
In a joint statement the leaders of the four countries who met virtually stated, "We have convened to reaffirm our commitment to quadrilateral cooperation between Australia, India, Japan, and the United States. We bring diverse perspectives and are united in a shared vision for the free and open Indo-Pacific. We strive for a region that is free, open, inclusive, healthy, anchored by democratic values, and unconstrained by coercion. We recall that our joint efforts toward this positive vision arose out of an international tragedy, the tsunami of 2004. Today, the global devastation wrought by COVID-19, the threat of climate change, and security challenges facing the region summon us with renewed purpose. On this historic occasion of March 12, 2021, the first-ever leader-level summit of the Quad, we pledge to strengthen our cooperation on the defining challenges of our time."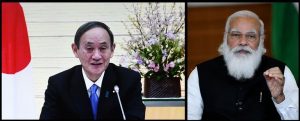 And it would have been a surprise had China not come up in the talk between the four leaders . They discussed the Line of Actual Control (LAC) as one of several examples of Chinese aggression, issues related to Hong Kong, Xinjiang, Taiwan Strait and coercion of Australia, harassment around the Senkaku, showed concern over Chinese cyber attacks on the USA targets (Microsoft Exchange and Solar Winds) and also cyber security incidents in India, Japan and Australia. Foreign Ministry, Spokesperson of China Zhao Lijian in his regular press conference in response to a questions said, "State-to-state exchanges and cooperation should help enhance mutual understanding and trust among regional countries, instead of targeting against or undermining the interests of any third party. We hope relevant countries will follow the principles of openness, inclusiveness and win-win results, refrain from forming closed and exclusive "cliques" and act in a way that is conducive to regional peace, stability and prosperity."
A day prior the meeting Ned Price, Department Spokesperson US Department of State responded to a question in the daily briefing, " Well, the Quad, as it's known – the United States, Australia, and India and Japan – it was established not to counter one single threat or to focus on one single issue, but it was really established, and certainly how we seek to use it, is to showcase, to showcase what democracies can deliver together both for our own populations and for the broader world. We recognize that Quad members are uniquely positioned to help lead the region out of crises and to help move the region towards the more positive vision we all seek, both to address these crises and to seize these opportunities that are presented to all of us collectively. So I would hasten to – I would dissuade you from the idea that the Quad is focused, again, on any single issue, to include China. It's not. Of course, maritime security is a key focus of the Quad, but it is a grouping that is predicated on shared interests, and we certainly have shared interests with these three other partners and allies. We have shared interests in standing up for universal values and rights. We have shared economic interests. We have shared security interests. We have deep people-to-people ties with all of these countries. And that's what the Quad is about. It's about more than any one particular challenge."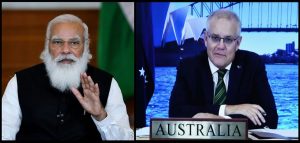 Meanwhile the four Quad leaders added, "Together, we commit to promoting a free, open rules-based order, rooted in international law to advance security and prosperity and counter threats to both in the Indo-Pacific and beyond. We support the rule of law, freedom of navigation and over flight, peaceful resolution of disputes, democratic values, and territorial integrity. We commit to work together and with a range of partners. We reaffirm our strong support for ASEAN's unity and centrality as well as the ASEAN Outlook on the Indo-Pacific. Full of potential, the Quad looks forward to the future; it seeks to uphold peace and prosperity and strengthen democratic resilience, based on universal values."
The four nations will continue to prioritize the role of international law in the maritime domain, particularly as reflected in the United Nations Convention on the Law of the Sea (UNCLOS), and facilitate collaboration, including in maritime security, to meet challenges to the rules-based maritime order in the East and South China Seas. They reaffirmed their commitment to the complete denuclearization of North Korea in accordance with United Nations Security Council resolutions, and also confirm the necessity of immediate resolution of the issue of Japanese abductees. As long-standing supporters of Myanmar and its people, the leaders emphasised on the urgent need to restore democracy and the priority of strengthening democratic resilience.
"To advance these goals and others, we will redouble our commitment to Quad engagement. We will combine our nations' medical, scientific, financing, manufacturing and delivery, and development capabilities and establish a vaccine expert working group to implement our path-breaking commitment to safe and effective vaccine distribution; we will launch a critical- and emerging-technology working group to facilitate cooperation on international standards and innovative technologies of the future; and we will establish a climate working group to strengthen climate actions globally on mitigation, adaptation, resilience, technology, capacity-building, and climate finance. Our experts and senior officials will continue to meet regularly; our Foreign Ministers will converse often and meet at least once a year. At the leader level, we will hold an in-person summit by the end of 2021. The ambition of these engagements is fit to the moment; we are committed to leveraging our partnership to help the world's most dynamic region respond to historic crisis, so that it may be the free, open, accessible, diverse, and thriving Indo-Pacific we all seek, " the statement said.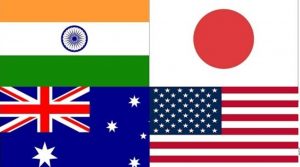 Quad leaders recognized that a free, open, inclusive, and resilient Indo-Pacific requires that critical and emerging technology is governed and operates according to shared interests and values. In that spirit, they will convene a Critical and Emerging Technology Working Group, which will develop a statement of principles on technology design, development, and use. The group will facilitate coordination on technology standards development, including between national technology standards bodies and working with a broad range of partners. It will encourage cooperation on telecommunications deployment, diversification of equipment suppliers, and future telecommunications, including through close cooperation with private sectors and industry. It will facilitate cooperation to monitor trends and opportunities related to developments in critical and emerging technology, including biotechnology and will convene dialogues on critical technology supply chains.
US National Security Advisor Jake Sullivan in a White House press briefing stated, "And with respect to COVID-19, these four leaders made a massive joint commitment today: With Indian manufacturing, U.S. technology, Japanese and American financing, and Australian logistics capability, the Quad committed to delivering up to 1 billion doses to ASEAN, the Indo-Pacific, and beyond by the end of 2022. The leaders also agreed that they would meet in person before the end of the year, and they launched a set of working groups, including an emerging technology group that will help set standards in key technologies like 5G and artificial intelligence, and another on cyber that will help our four countries meet this growing threat."
Calling it a big day for American Diplomacy he added, "the Quad, at the end of the day — at the end of today is now a critical part of the architecture of the Indo-Pacific. And today's summit also kicks off an intensive stretch of diplomacy in the region. Secretary Blinken and Secretary Austin will travel to Japan and Korea to meet with their counterparts in a two-plus-two format. They're getting on the road this weekend. Secretary Austin will go on to India from there. Secretary Blinken and I will subsequently meet the senior Chinese officials in Anchorage, Alaska. And we will have other high-level meetings and visits in the coming weeks with leaders from the Indo-Pacific that will be announced soon. Just a word on Anchorage before I turn to your questions. We've spoken a lot about our fundamental strategy of establishing a position of strength in the early going. And after the work of the past 50 days, Secretary Blinken and I will enter the meeting with senior Chinese representatives from a position of strength."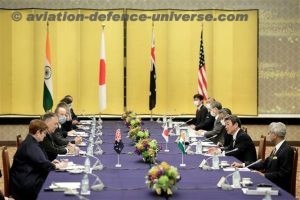 And on a query that Taiwan's foreign minister has said he wants to see more security cooperation with the Quad, Sullivan responded, " So the way that we look at this is that the Quad is not a military alliance; it's not a new NATO, despite some of the propaganda that's out there. What it is, is an opportunity for these four democracies to work as a group, and also with other countries, on fundamental issues of economics, technology, climate, and security. What we know is that broad-based maritime security is already core to the Quad agenda, that humanitarian assistance and disaster response and the work of our militaries in that space is already on the agenda. Where we go from there on everything from freedom of navigation to broader regional security questions, that has to be worked through, not just at the leaders level but at the working level as well. So we'll see how that unfolds over the course of the months to come."
The Quad Summit did create a ripple in the four countries but the most palpable was in the US. Everyone who was someone in the Joe Biden government gave a statement on the importance and need of the alliance. World equations are changing and India of 2021 is a part of this change . No prizes for guessing that India's regional and global diplomatic and strategic standing is at a different level and cannot be ignored. China does give a perception of being unfazed but knows the alliance cannot be taken lightly. Lets wait and watch to find an answer to our question- will Quad help stabilise the region's geopolitical turbulence ?