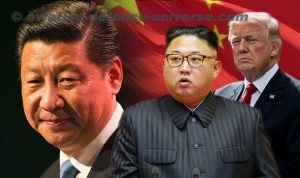 By Suresh Somu
Bangkok. 12 January 2019. North Korean leader Kim Jong Un is tactfully playing his cards well with his latest visit to China at the invitation of Chinese President Xi Jinping.
Likewise, China is also holding its cards closest to its chest, probably even using North Korea as a discreet ace, to effectively end the growing trade war with the United States.
Read between the lines and it is not a coincidence that Kim's recent trip also coincides with the second day of talks between US and Chinese officials in Beijing although China has, rather shrewdly rejected the notion that it was using the North Korean issue as a bargaining chip in the negotiations.
There was a little more fanfare as Kim arrived at Beijing train station on Tuesday (Jan 8) aboard his distinctive dark green train, emblazoned with a yellow stripe at 10.55am local time, South Korea's Yonhap news agency reported. .
The visit, observers say, will likely lead to Kim's fourth summit with Xi in the last year and comes amid plans for a second summit with US President Donald Trump aimed at denuclearising the Korean peninsula.
For the record, Kim held three summits with Xi, his most important ally, last year, before and after summits with Trump and South Korean President Moon Jae-in.
"Both Xi and Kim see value in coordinating their positions in advance of Trump-Kim summits. That appears to be a pattern," Dr Bonnie Glaser, a senior adviser at the Centre for Strategic and International Studies, told AFP. "Kim also seeks Beijing's help in getting international sanctions eased."
Look back at the prevailing scenario: In the midst of the global heighten concerns on the tit for tac strategy, positivism energy was witnessed when the two Koreas unveiled a project to reconnect rail and road links severed since the 1950-53 Korean War. All pointed to one direction that Kim was going around, after all, with a certain aim to develop North Korea's decrepit economy.
Political analysts say that this visit could be a wake-up call to President Donald Trump that Kim can be a serious middleman in the ongoing unsettled US-China tug-of-war as he has diplomatic and economic options besides what is offered by Washington.
And he will be ready to go on that route should their rapprochement falter. Especially when he announced in his New Year's speech his commitment to denuclearisation but warned that he would change course if US sanctions remained.
Read between the lines, again: This could either mean North Korea could revert back to its old ways or find other countries to work with. It would be of no surprise if North Korea is smartly using China as a security guarantee before the summit with President Trump. And if Kim plays his card well, he could play a strategic balance between the two big powers, China and the US. Or lean towards China at the expense of the US.
The US knows that China is an important long-standing diplomatic ally for North Korea, and one of its main sources of trade and aid. Historically, it has been Pyongyang's largest trading partner too. And the nuclear-armed nation is seeking more than US$7.7 million in investments; Hence Xi's Belt and Road project probably offers the perfect answer.
The trade war between the US and China has severely impacted its economy as it has begun to slow sharply. Thus, it would be of interest to Xi to resolve this sooner than later. And the timing can't be any better for him. It shows that Beijing clearly has North Korea card to play if it sees fit.
Xi said China supported North Korea and the US "holding summits and achieving results, and supports relevant parties resolving their respective legitimate concerns through dialogue". He also said China would be ready to play a "positive and constructive role" towards maintaining peace and achieving denuclearisation on the Korean peninsula, reported Xinhua.
According to Lu Chao, the director of the Korea Research Center at the Liaoning Academy of Social Science, Kim may well be most critical in his "middleman role". He says: "One important reason for him to visit China is to strategies with China on these issues beforehand and also given the countless times of China's dealing with the US, it's to Kim's benefit to seek some advice from Xi."
With the recent spike of events, one could also surmise that another Trump-Kim summit, after the iconic first one in Singapore last year, is going to happen very soon, probably in the Vietnamese capital, Hanoi.
And President Trump better be wary as how Kim plays his cards, definitely to some China advantage, may well be the turning point in the growing trade war with the United States.