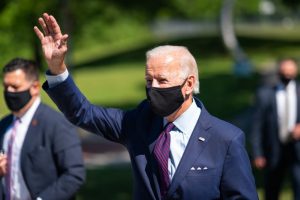 By Jai Kumar Verma
New Delhi. 14 November 2020. The US presidential election is not only significant for United States, but it is important across the globe as policies emanating from Washington impact the whole world. As the relation between two principal democracies of the world is strengthening, the result of US presidential elections were eagerly awaited in India too. Now the change in White House is imminent hence New Delhi is also analysing this transformation and its impact on India.
Joe Biden won the US presidential election, and in all probability, he will take oath as 46th President of United States of America on 20 January 2021. Biden who also worked as Vice President with Barak Obama always promoted close relationship with India. In 2006, three years before becoming Vice President, Biden stated that "My dream is that in 2020, the two closest nations in the world will be India and the United States."
Biden played a pivotal role as Chairman of the Senate Foreign Relations Committee as well as Vice President to improve US India relations. In 2008 Biden convinced both Democrats as well as Republicans to accept nuclear deal with India. Biden as Vice President supported the expansion of United Nations Security Council (UNSC) and Indian membership in UNSC. Obama-Biden government made India a "Major Defence Partner" of USA which made India entitle to get advance and critical technology which helped India to strengthen its defence forces.
In 2016 Obama-Biden government also signed Logistics Exchange Memorandum of Agreement (LEMOA) which was the first out of three foundational pacts which are necessary for close defence relationship between India and USA. LEMOA is important as now Indian military can get supplies of spare parts and services from US bases. LEMOA is also useful for Navies of both the countries as they are working together in India-Pacific. Later India signed Communications Compatibility and Security Agreement (COMCASA) and Basic Exchange and Cooperation Agreement for Geo-Spatial Cooperation (BECA) with USA during the tenure of President Trump.
The cooperation on handling terrorism would also be strengthened between India and US during Biden presidency. The policy paper released by president elect Biden during his campaign mentions that "Biden believes there can be no tolerance for terrorism in South Asia – cross-border or otherwise". India is the prime victim of cross-border terrorism while Pakistan is the main sponsor of it. The document also mentions that US would push India to become a permanent member of UN.
In olden days US was equidistant with India and Pakistan and in many cases, it's slant towards Pakistan was evident. However, now the situation has changed and India has become much more important than Pakistan, but Islamabad has become significant because of Afghanistan. Pakistan bestowed 'Hilal-e-Pakistan' to Biden which is second highest civilian honour of Pakistan. Islamabad feels that its relations with Washington will improve during Biden's presidency.
The policy paper issued by Biden also mentions that his administration will give high priority in strengthening the US-India relationship. The paper mentioned that "No common global challenge can be solved without India and the U.S. working as responsible partners. Together, we will continue strengthening India's defence and capabilities as a counter-terrorism partner, improving health systems and pandemic response, and deepening cooperation in areas such as higher education, space exploration, and humanitarian relief." It also mentioned that "As the world's oldest and largest democracies, the US and India are bound together by our shared democratic values: fair and free elections, equality under the law, and the freedom of expression and religion. These core principles have endured throughout each of our nations' histories and will continue to be the source of our strength in the future".
Both Republicans and Democrats are realising the aggressive behaviour of China and the way it is progressing economically as well as enhancing its defence capabilities very soon it may threaten the lone superpower status of US. Hence US is not only supporting Taiwan but also strengthening its relationship with India as a counterweight to China. The Trump administration was very vocal in supporting India against China in the current border standoff. It is expected that Biden administration will also follow the same policy. However, Biden being a seasoned politician, he and his team is expected to use a mild language, but it had to oppose China and, in that process, will have to support India. The Biden administration may renegotiate trade and other economic issues with China.
Trump administration adopted a stringent policy towards immigration specially H1B visas which is for skilled professionals. This stern immigration policy affected India as large number of Indians apply for H1B visas. Democrats are liberal on immigration and it is expected that Biden administration will make the immigration laws softer and it will benefit Indians. It is also visualised that he may adopt family-based immigration laws.
Trump tailed protectionist policy as his slogan was 'Make America great again' while it is expected that Biden may adopt internationalist policy. Trump disregarded The World Trade Orgnisation (WTO) which regulates the international trade between different countries. Trump administration was also obstructing the principle of free trade however now it is expected that Biden may inverse some policies which may benefit India. Biden administration may re-join the Paris Climate Agreement which India supports. Biden government may like to restore the funding of World Health Orgnisation (WHO) which is important in the time of corona pandemic.
However, it is expected that Biden may adopt an inflexible policy towards alleged human right violations especially in Jammu & Kashmir. Vice President Kamala Harris is a big supporter of Human Rights. Few Democrats which are known as 'progressive' may raise the issue of human right violations in J&K. Hence India needs to counter Kashmiri secessionists and Pakistani propaganda about false allegations of human right violations in the state. Although President Trump offered more than once to mediate between India and Pakistan to resolve Kashmir issue, but his administration was not much critical of India on human right issue.
Few Congressmen criticised Indian government for defanging article 370 and passing of Citizenship Amendment Act (CAA) but the Trump administration had not taken the issue seriously. Biden administration especially Vice President elect Kamala Harris may criticise Indian government for human right violations in J&K as well as about the issue of CAA. Biden administration may also criticise India for implementation of National Register of Citizens (NRC) in Assam.
The US watchers claim that the overall policies of the country will not change much as it can be seen that there were several differences between the previous US presidents like Donald Trump, Barak Obama, and George W Bush but all the presidents worked for the stronger India as it was in the interest of US. As there is a strong government in India and Indian defence forces have successfully stopped expansionist China's invasion the Biden administration would certainly extend assistance to India so that the phenomenal rise of China can be curbed.
US is exporting arms and ammunition worth billions of dollars to India and both countries have inculcated close strategic ties, hence Biden administration would not be hostile to India because of Kashmir issue. If US relations with Iran normalise, then US may lift the sanctions and India can purchase cost-effective oil from Iran. Trump also raised tariffs on several products imported from India and also withdrawn preferential treatment given to India. Biden may relax some restrictions. India may hope that relations between both the democracies would further invigorate during Biden's presidency.
(Jai Kumar Verma is a Delhi-based strategic analyst and member of United Services Institute of India and Institute for Defence Studies and Analyses. The views in the article are solely the author's. He can be contacted at editor.adu@gmail.com)