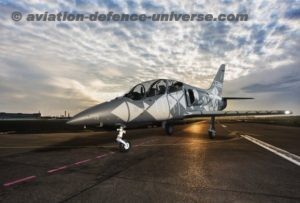 Odolena Voda, C. Bohemian, Czech Republic. 07 August 2019. Czech based Vodochody AEROSPACE has participated in Slovak International Air Fest in Sliac air base, and showcased its L-39CW, which was used as a technology demonstrator of the new L-39NG trainer aircraft, a successor of L-39 Albatros trainer, both L-39CW and L-39NG shares similar avionics package.
Peter Pellegrini, Prime Minister of Slovak Republic also presented during the presentation of Aero Vodochody, the officials from Slovak Ministry of Defence and Slovak Air Force were also there during Aero's presentation, which included the static display of L-39CW and the L-39NG simulator.
Besides that, L-159A from the Czech 21st Tactical Air Base Caslav, the L-39 Albotros from the Slovakian Air Force and the private L-29 Dolphin participated in the flying display.
There were several Aero aircraft in the sky. Demo team of two L-159A aircraft from the Czech 21st Tactical Air Base Čáslav preformed simulation of air strike. The L-39 Albatros from the Slovakian air force and the L-29 Dolphin owned by private operator also preformed Impressive flight demonstrations.