Vietjet signed an agreement with Safran Aircraft Engines on strategic cooperation
Vietjet has been a CFM customer since it started operation in 2011 with CFM56 engines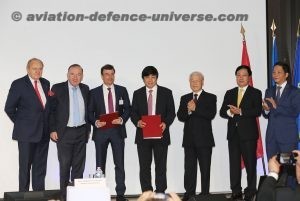 (Paris – France, March 27, 2018) – Today in Paris, Vietjet aviation joint stock company and Safran Aircraft Engines signed a Memorandum of Understanding about their comprehensive collaboration under the witness of His Excellency Nguyen Phu Trong – General Secretary of the Communist Party of Vietnam during his official visit to France and French President Emmanuel Macron. Accordingly, Safran Aircraft Engines will support Vietjet with fleet management services, training, R & D programs including fuel efficient usage, technical management and help in setting up regional – level support maintenance capabilities.
Speaking at the Signing Ceremony, Vietjet's Vice President Dinh Viet Phuong said: "Today agreement marks a new milestone in strategic partnership between Vietjet and Safran – CFM. We are convinced that new engines will improve our operation capability, which enables us to fulfill our long-term development strategy to global market and better our services. We also believe that the new agreement will contribute positively to the economic and trade exchange between Vietnam and France, and create more jobs for the two peoples."
"We are very pleased to be an integral part of Vietjet Air's long-term growth strategy," added Philippe Couteaux, Senior Vice President, Sales & Marketing at Safran Aircraft Engines and CFM. "This MoU is in line with our recent commercial agreements with VietJet Air and also reflects the relationship of mutual trust between the airline and Safran Aircraft Engines and CFM. VietJet Air selected us because of our recognized expertise and experience in support services."
While in France, Vietjet's leaders also inked a finance agreement with GECAS France on purchasing and leasing six A321neo aircraft worth US$800 million.