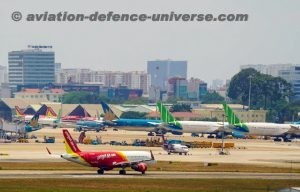 (Ho Chi Minh City, February 24, 2021) – Vietjet operates the most flights out of Vietnam's six reported airlines with 7,881 flights operated between January 19 and February 18, 2021, according to the Civil Aviation Authority of Vietnam (CAAV).
Vietjet also has the highest month-on-month flight growth of 22.1%, outstripping Pacific Airlines at 13.3% and Bamboo Airways at 8.8%. On the other hand, Vietnam Airlines and its subsidiary VASCO had to reduce the number of flights by 7.8% and 14% respectively. The newly operated Vietravel Airlines' growth rate is not available.
During the reported period, which includes also the country's highest travel season of the Lunar New Year holidays, Vietnamese airlines operated a total of 20,944 flights, a 7.4% growth month-on-month in terms of the number of flights operated despite a new wave of corona virus infection in the country. It was, though, down by 37,5% year-on-year. Vietnam Airlines and Bamboo Airways operated 6,725 fights and 4,008 flights, respectively ranking at the second and the third. Pacific Airlines came in the fourth with 1,640 flights while VASCO and Vietravel recorded 518 and 172 flights respectively.
The average On-time Performance (OTP) index of Vietnamese airlines for the last month was at 94,6%, an improvement of 9.3% year-on-year. All domestic airlines reported OTP of over 90%. Delays or cancellations resulted from several circumstances including unfavorable weather conditions, issues in operation, commercial, and airport services, or late aircraft arrival, according to CAAV.
In the first months of 2021, the Hanoi-Ho Chi Minh City route remains one of the busiest routes in the world. A report by global flight data provider OAG shows that the Hanoi-Ho Chi Minh City is the second busiest route after the South Korea's Jeju-Seoul Gimpo with 1.085 million passengers recorded in February, 2021, increasing from 1.02 million in the previous month.