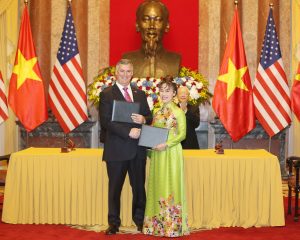 Hanoi. 27 February 2019. At midday today at Vietnam's Presidential Palace, Vietjet and the airplane manufacturer Boeing Company officially signed a deal for purchasing 100 new 737 MAX airplanes worth US$12.7 billion, according to the manufacturer's list prices.
Vietjet President and CEO Nguyen Thi Phuong Thao and Boeing Commercial Airplanes President & CEO Kevin McAllister jointly co-signed the airplane purchase deal, witnessed by Vietnam Communist Party General Secretary and President Nguyen Phu Trong and United States President Donald Trump. The event took place during the important United States – North Korea Summit in Hanoi.
Speaking at the ceremony Boeing Commercial Airplanes President & CEO Kevin McAllistersaid, "We are pleased to expand our partnership with Vietjet and to support their impressive growth with new, advanced airplanes such as the 737 MAX. We are confident the MAX will help Vietjet grow more efficiently and provide great travel experiences for their passengers.The economic expansion in Hanoi and across Vietnam is impressive. Vietjet and the country's burgeoning aviation sector are clearly enablers, helping to stimulate travel within Vietnam and connecting Vietnam with the rest of Asia. We are proud to support this economic development, which in turn supports engineering and manufacturing jobs in the United States."
Earlier in 2016, Vietjet also signed a 100 B737 MAX order, setting the mark for the largest commercial jet purchase in Vietnam's aviation sector, at the time and making the airline currently the largest customer of the B737 MAX model in Asia.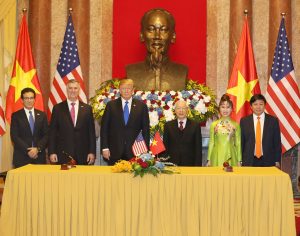 Vietjet President and CEO Nguyen Thi Phuong Thao said: "The deal for 100 new airplanes and other agreements for 200 B737 MAX airplanes today are important moves for us to meet our international flight network expansion plan with a higher capacity, thus offering our passengers more exciting experiences when being able to fly to more new international destinations. The contract signing ceremony, which is witnessed by the top leaders of Vietnam and the US on the occasion of the US-North Korea Summit in Hanoi, will mark a milestone for the two companies' growth path."
In addition to airplane purchases, Boeing will partner with Vietjet to enhance technical and engineering expertise, train pilots and technicians, and improve management capabilities at the airline and in Vietnam.
On the same day, Vietjet and General Electric also signed a long-term Engine Support Agreement to equip aircraft with LEAP-1B engines, which is valued at US$5.3 billion – according to the manufacturer's list prices. The agreement includes spare engines and support packages to facilitate the airline's already-ordered new and modern aircraft. Thus, the total value of signed deals between Vietjet and US companies on this occasion will reach US$18 billion.
As the US – North Korea Summit takes place in Vietnam, Vietjet's airplane purchase order also contributes to increase trade turnover between the United States and Vietnam. Vietnam is also the country that has achieved success in promoting economic development. Vietjet, in particular, is seen as a pioneer for international foreign affairs and economic diplomacy and known for promoting the image of an innovative Vietnam to the world.