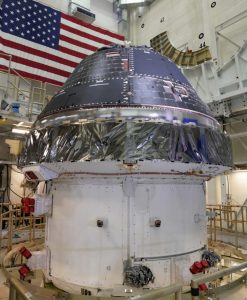 Kennedy Space Centre, Florida. 02 August 2019 . Vice President of the United States of America, Mike Pence has announced the completion of NASA's Orion spacecraft capsule for Artemis 1, a mission to the moon, at the Kennedy Space Centre in Florida on occasion of the 50-year anniversary of the Apollo 11 Moon landing. The manufacturing of the Orion capsule has accomplished by US aerospace major Lockheed Martin.
Lockheed Martin Vice President and General Manager of Commercial Civil Space, Lisa Callahan asserted, "Orion is a new class of spaceship, uniquely designed for long-duration deep space flight, that will return astronauts to the Moon and eventually take the first humans to Mars, and bring them all back safely. Orion will accelerate scientific discovery of our solar system and will be the cornerstone of the defining space achievement of this era."
Mike Hawes, Orion program manager at Lockheed Martin said, "throughout assembly, the team tested and validated the many systems a hundred different ways to ensure they will operate as designed in the harshness of deep space. The Artemis 1 flight will test the design and workmanship of the capsule and its service module during the three-week mission out around the Moon and back. We're excited for this mission as it paves the way for the first crewed mission in 2022, Artemis 2."
The joint force of Lockheed Martin, NASA and others suppliers have fitted all capsule's parts such as – capsule's avionic computers, harnesses, propulsion system and its 12 engines, 11 parachutes, large 16-foot-diameter heat shield, forwarded way cover and many other sections, into its final phase.
All modules ( crew & service ) were piled in the FAST cell where these modules are being completely merged covering fixing the physical retention bolts and the umbilical lines between two modules. In September, the combined pile will be transferred to NASA's Plum Brook Station in Ohio, where it will face environmental testing in a large thermal vacuum chamber as well as testing for electromagnetic intervention and affinity.
The Spacecraft will enter into final preparations at Kennedy Space Centre before Lockheed Martin hands it over to ground authorities for launching in 2020.