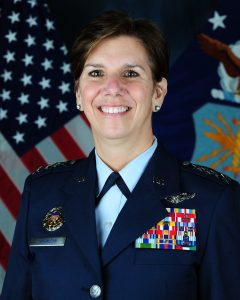 Washington DC. 03 May, 2016. On April 28, the US senate created history by confirming  General Lori J. Robinson as commander of U.S. Northern Command,  thereby making her in charge of all military activity in North America. She's currently the Commander of the Pacific Air Forces. Barack Obama nominated her for the post in March. And Time magazine's list of hundred influential people featured her.
She will become the first woman to lead a U.S. combatant command, one of the most senior roles in the U.S. Military.And this is not the only first to her credit. On September 21, 2007, Robinson made history when she became the first Air Battle Manager and first woman 552nd ACW commander to be frocked to brigadier general while stationed at Tinker AFB, Oklahoma. In 2014 she was chosen to be the new commanding general of the Pacific Air Forces in Hawaii, making her the first U.S. female four-star commander of combat forces.
In addition to being the Commander of Pacific Air Forces; Air Component Commander for United States Pacific Command she is also Executive Director, Pacific Air Combat Operations Staff, Joint Base Pearl Harbor-Hickam, Hawaii. The Pacific Air Forces command has responsibility for Air Force activities spread over half the globe and supports 45,000 Airmen serving principally in Japan, Korea, Hawaii, Alaska and Guam.
Robinson joined the Air Force in 1981 through the ROTC program at the University of New Hampshire. She served in a variety of positions as an Air Battle Manager, including instructor and Commander of the Command and Control Operations Division at the United States Air Force Weapons School, as well as Chief of Tactics in the 965th Airborne Warning and Control Squadron. She has held staff assignments as command briefer at Headquarters Pacific Air Forces, Deputy Chief of Staff and executive assistant to the Director at the Defense Information Systems Agency, and executive officer to the Commander of Air Combat Command.
Robinson has commanded an operations group, a training wing, and an air control wing. She has also been deployed as Vice Commander of the 405th Air Expeditionary Wing, leading more than 2,000 Airmen flying B-1 Lancer, KC-135 Stratotanker and E-3 Sentry aircraft in operations Enduring Freedom and Iraqi Freedom.
Robinson was an Air Force Fellow at The Brookings Institution in Washington, D.C., and has served at the Pentagon as Director of the Secretary of the Air Force and Chief of Staff of the Air Force Executive Action Group. She has also been Deputy Director for Force Application and Support, Directorate of Force Structure, Resources and Assessment, Joint Staff, the Pentagon, Washington, D.C. Following this, Robinson was Director, Legislative Liaison, Office of the Secretary of the Air Force, the Pentagon, Washington, D.C and prior to assuming her current position General Robinson was the Vice Commander, Air Combat Command, Langley AFB,Va.
The new role is not only going to be challenging but will also reinstate faith of the US forces into the government's role in removing gender bias and ensuring that calibre is the main criterion in selection procedures in sensitive appointments. This will also be a motivator for women to join the forces, not only in  USA but also world over. Armed forces globally might take a lesson or two from the big brother.