By Sandeep Dhingra, CTO, Network Services and Software, STL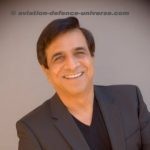 New Delhi. 30 December 2020. The whole world has realized that 'Digital disruption' is the new normal. The global community, including all sectors, is embracing digital technologies to compete and flourish in a new world. Digital technology is playing an important role in increasing the pace of global economic growth
Amidst the global defence forces getting ahead of the 'digital curve' and putting in place net-centric warfare; the vision of a high-tech war in future looms large. Many defence forces are leveraging digital supremacy while deploying digital technologies across intelligence, surveillance, navigation and communication. This is leading to an unprecedented focus on digital readiness for defence strategies, next-gen warfare, and modernisation of their defence operations. These technologies are not only changing the nature and imperatives of warfare, but also directly impacting key defence goals like mission effectiveness, win-ability, and deterrence and helping to minimise casualties and collateral damage.
Indian Defence ready for a disruption!
Countries like the US, UK, Israel, and Australia have already built formidable Defence forces on the back of a robust defence-grade network. In future battles, technology superiority is going to be a decisive factor and will impart a winning edge.
India has the world's second-largest defence force with 1.4 million active personnel and is in the initial stages of building a leaner and modern technology-enabled force as envisioned by Prime Minister Narendra Modi. But our Armed Forces face significant challenges with a strategic environment that is increasingly threatening while our adversaries are investing heavily in network unification and modernisation to erode our military advantage.
India has built expansive and secure defence networks across tri-forces like Naval Communication Network (NCN), Army Radio Engineered Network (AREN), Air Force Cellular Network (AFCEL), and Air Force Network (AFNET). Though we have our defence capabilities in place, many of these are decades old and require an upgrade. Moreover, these networks work in silos.
Let us see the current state of some of the Defence Networks
AFNET is an IAF owned, operated, and managed digital information grid that acts as a backbone for communication and as an integration point with other modes of communication, but is reaching 'End of Life'. It will now become vulnerable to digital and cyber threats arising at the global level. It needs to be upgraded not only to address ever-increasing data demand and the latest applications but also to combat threats emanating from new cyber warfare.
AREN is a 20 years old system and is now being replaced with a more agile and robust Tactical Communication System (TCS)
These networks have been used as a communication tool for years, now they have to be reimagined as a strategic deterrent and force multiplier. The Indian Defence force needs to converge and modernise these networks and replace them with digital communication systems for driving innovation in all military communications, be it army, naval, or air-borne. Unless our defence force is not adept with a resilient and sophisticated network backbone, adopting cutting-edge digital technologies to gain a winning edge will be a distant dream.
Our Defence force needs to be adept with digital capabilities that need a Defence grade network to ride on. This network needs to be unified and modernised to enable advanced use cases for a digital Defence future.
Unified network infrastructure a must for the Indian Defence force
The technologically-enabled One Unified Defence Network will form the backbone of our Defence forces for all future warfare. Joint-ness of Networks amongst the tri forces is the first crucial step to achieve digital supremacy at present and gain a winning edge in the future.
The best-fit approach to attain a unified network infrastructure will be:
Consolidation of infrastructure at each service level
Unified Infrastructure at all services levels

Master overarching Pan India Multi-core network
Central IMS based connectivity with logging & surveillance
Integrated SDR solution for collaborative operations
Uniform mobility connectivity

Create Overlay logical network for specific functional / mission-based use cases
If our Defence force takes this approach to rethink and rebuild their network architecture then going forward they will be able to develop a common infrastructure for improved accessibility and security, a strong backbone for instilling enterprise Cyber security architecture, unified enterprise grade cloud infrastructure and a strong support to enable next-gen warfare.
The next step – Fortifying Unified defence networks with next-gen technologies
Once we achieve the envisioned state of a Unified Defence network, the next logical step is to fortify this network with modern, next-gen digital capabilities like smart action orchestration and threat analysis, technology-led smart borders, UAV, and cloud computing, to enable information sharing, net centricity & unified decision making and operationalizing Internet of Battle Things (IoBT) for future warfare.
This defence-grade network could be further fortified with cloud infrastructure like ISR, edge data centre ecosystem, and Command & control centre to enable use cases such as emergency response, disaster management, border management, maritime security, critical infra protection, and fleet management. This would form a strong line of defence against multivariate threats.
This will further help formulate a comprehensive and robust cyber defence infrastructure for the country with cohesiveness among logistics and transportation and centralised decision-making and decentralised execution.
How Unified and Modernised Defence networks will be instrumental in achieving the key objectives of Defence
The Indian Defence force needs to Unify, Fortify & Modernise its network capabilities to gain a 'Winning Edge'. The Unified network can both be used as a deterrent (enhanced defence security) and as a force multiplier (boosting attack capabilities)
Let us imagine an envisioned state with a Converged and Modernised Defence network
Common infrastructure for base networks, protocols, and communication systems for an improved accessibility & security leading to better OpEx and better economies of scale
Defence-grade Cybersecurity architecture for network security with centralised control
Interoperability of networks and communication across Tri-forces
Unified cloud architecture for extended tactical support for the warfighter at the edge
Designated Data Centre for intelligence gathering, sharing, analytics, and decision-making
Once these networks are Unified and modernised they can best leveraged as:
A Deterrent
Leveraging joint network for defence needs beyond communication
Enablement of fortification through networks in the form of Smart Borders
Technology-guarded defence establishments (cantonments, airbases, naval bases etc.)
A Force Multiplier
Compounding network power through integrated Command & Control, data-led decision making
360° common operational picture
Superior war fighter support & on ground response coordination to strengthen
To stay ahead of the curve and achieve above-mentioned outcomes, our Defence force requires a robust, highly resilient, sophisticated, and SDN-enabled network backbone to support digital capabilities and exploit them at a speed of relevance for a transformative real-world impact
In line with the PM'S vision of Atmanirbhar Bharat, the defence sector must also understand that there is a need for indigenous technology providers who understand the nuances and deliver solutions so that our forces are digitally equipped in the best possible manner to become a formidable Defence force.