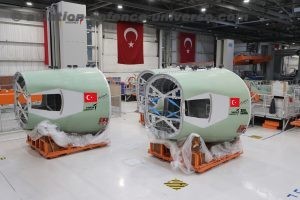 Istanbul. 24 April 2021. Turkish Aerospace delivered, 300th delivered Section 19 Barrel to RUAG Oberpfaffenhofen facilities. Following the mating operation of the Barrel with Section 18 Panels, which are also manufactured by Turkish Aerospace, the complete section 18+19 will be delivered to Airbus Hamburg FAL facilities for A320 production.
Turkish Aerospace President and CEO Prof. Dr. Temel Kotil stated the importance partnership between Turkish Aerospace and Airbus. Kotil stated: "In the aerostructure cooperation, we are glad to keep our partnership with Airbus since 2017. We keep working on our delivery promises. As you may know, it is important to deliver aerostructure materials on time. Acknowledging these responsibilities over international and national market, Turkish Aerospace is honored to keep promises and keep continue its deliveries on time. Within success of the 300th deliver Section 19 Barrels, I would like to thank and congratulate all the team who worked hard for this to become."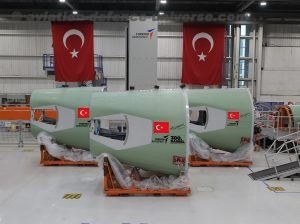 Section 19 is located next to the rear galley and it is separating pressurized and unpressured
sections of the Airbus A320 aircraft. Section 19 is combining major parts of the aircraft such as Vertical Stabilizer, Horizontal Stabilizer and main control surfaces like Rudder and Elevator.