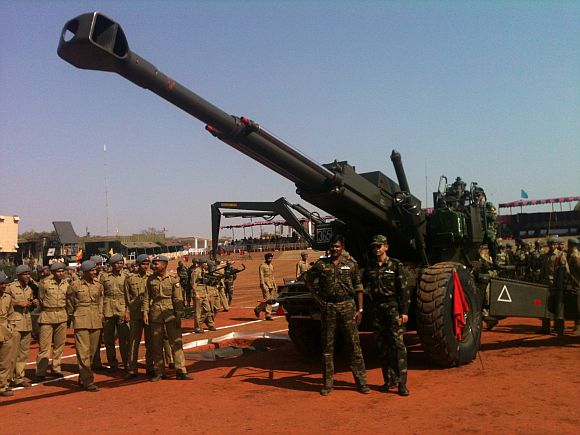 Composition in the Regiments
According to army history in artillery, the regiments have been classified in the form of caste and culture. Some of the regiments have been divided into the caste system or some in the traditional culture or historical backgrounds. In regiments of artillery, the units have been allotted in the form of Sikhs, Jats, Dogras, Rajputs, Ahirs, Brahmins, Gurkhas, Marathas and SICs (South Indian Classes). There are also two airborne artillery units, 9 (Parachute) Field Regiment and 17 (Parachute) Field Regiment. Most of the artillery units have been affiliated to infantry units. On anniversaries of their raising days, the artillery units invited their affiliated units to join their celebrations.
Units and their Types of equipment in Artillery
In the artillery, the regiments have been divided into different units. They have been classified into Airborne Regiments (9 and 17 Para Regiments) Medium Regiments, Light Regiments, Missile Regiments, Rocket Regiments (inc 1812 Regiment), Field Regiments, and SATA (Surveillance & Target Acquisition) Regiments and Batteries. SATA Batteries and SATA Regiments are the most important units in artillery as they are equipped with UAV Drones and ELM MAST Radar System.
There are three artillery divisions: 40 Artillery Division (Ambala, Haryana)(under Western Command); 41 Artillery Division (Pune, Maharashtra, under Southern Command); and 42 Artillery Division (Alwar, Rajasthan, under South Western Command). Individual regiments include 3 Medium Regiment; 9 (Parachute) Field Regiment; 17 (Parachute) Field Regiment, both Parachute regiments dating to 1947; 34 Field Regiment, 36 Medium Regiment, 37 (Coorg) Field Regiment; 40 Field Regiment "Asal Uttar"; 861, 862, and 863 Regiments with the BrahMos surface-to-surface missile, 861 and 862 being in North and South Rajastan, 1812 Rocket Regiment, and 1841 Light Regiment.BL 10 pounder Mountain Gun crew in action, East Africa, World War ILight Artillery(Mortars)
Field Artillery
Medium Artillery
Self-propelled Artillery
Rocket Artillery
Missile Artillery
Surveillance & Target Acquisition