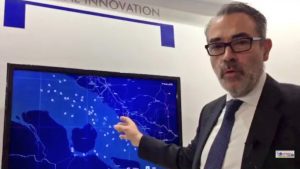 Jean Michel Eustache, Operational Marketing Manager / EW , Int , Surveillance, Reconnaissance, Defence Mission Systems , Thales In India in a monologue interview with Brig. VK Atray Managing Editor, ADU at Mast Indo-Asia 2018 (Transcribed Video).
" Welcome to the Thales booth. I am Jean Michel Eustache from the intelligence surveillance Reconnaissance, Business line. I am SEO expert and I will show how we can use the new digital experience and digital technology inside the sensor, the sort of could be read from an electronic warfare or could be airborne surveillance rather whenever and I will show you how we can manage the situation awareness, thanks to the digitalisation.
The AI attention artificial intelligence is available to know where is the different target of interest and then is very automatic classification inside the sensor so thanks to much were able to send at the good customer the good target of interest and not everything now the development is very difficult very complex so thanks to the new technology inside the Thales sensor we are able to manage the situation under wearable to make the mission more efficient.