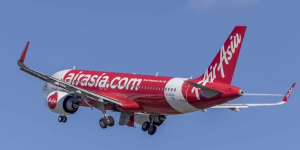 Langkawi. 21 March 2017.Thales has been selected by AirAsia for the equipment of avionics systems on their new fleet of 304 A320neos. The contract will also include a long-term Repair-By-The-Hour support agreement. Deliveries of the aircraft started in October 2016
Thales will equip the 304 single-aisles with its market leading Flight Management System (FMS)1, the navigation solution of choice for Airbus aircraft, alongside the THALES/ACSS T3CAS2 surveillance platform, the preferred solution for all Airbus single aisle aircraft. Beyond its position as a market leading instrument, with approximately 70% market share on new Airbus A320 and A330 families, the Thales FMS has several key differentiators to competitors' systems, such as the "what you see is what you fly" technology and temporary flight plan capability. The new fleet will also feature Low Range Radio Altimeter (LRRA) and Emergency Location Transmitters (ELT).
Thales has been partnering with AirAsia, leading LCC in Asia, since 2005, forging a close relationship in support of the airline's growth strategy. AirAsia already equips their entire Airbus fleet with Thales systems and has selected the group for all maintenance and support operations for Thales systems equipped across their entire A320 fleet of 200 aircraft. In addition to the avionics suite, Thales will continue to provide a Repair-by-The-Hour (RBTH) long-term maintenance contract to support AirAsia's fleet expansion. The agreement provides guaranteed turnaround times on repairs and offers a commitment of reliability with reduced operational risk.
"The Asian aviation market is one of the most competitive in the world. Carriers like AirAsia must strive to the highest levels of aircraft utilisation and efficiency in order to succeed. As a result, they require an avionics components developer and MRO network they can trust to deliver to the highest standards and with near perfect reliability. It is therefore a point of particular pride that Thales is chosen time and time again by AirAsia," said Eric Huber, Vice-President and General Manager of Avionics Services Worldwide, Thales.