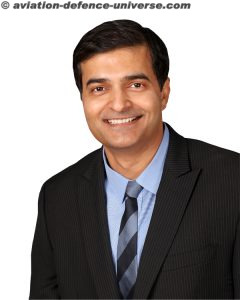 New Delhi. 14 August 2022. Thales in India with its its airborne optronic capability the targeting and reconnaissance pod TALIOS that combines targeting and tactical reconnaissance capabilities in a single pod which will be able to embed artificial intelligence in the future, and also a range of rockets for fixed and rotary wing military aircraft, has  just everything right on it's platter for India's defence needs.
Thales also brings the latest addition to its family of airborne surveillance radars, the AirMaster C, to the air show. With this new product, Thales offers an optimised surveillance solution for a broader array of platform types and operators, ensuring they benefit from the highest levels of mission performance as they face the new challenges ahead.
"Our country's celebrations of 75 years of independence evokes a huge sense of pride. At Thales, we are proud to have supported India at every step of the way since 1953, and contributed to the growth story in defence, aerospace, digital identity and security, and transportation sectors. Today we are a strong team of over 1800 working across India. We have built a robust industrial footprint underlined by long-term partnerships with the Indian industry. We are now moving from transfer of production to direct industrialization, ToT, and design and development in India. A natural extension of this ecosystem has been our engineering presence in India. We are looking forward to strengthening our teams by hiring and upskilling hundreds of engineers in the country. We remain resolute in supporting the Indian Government's vision of 'Aatmanirbhar Bharat'," stated  Ashish Saraf, VP and Country Director- India, Thales.
Among the other needs for the tri-forces, systems like SYNAPS software defined radios, armaments, small arms, counter-UAV measures and air defence solutions such as STARStreak , take the centre stage. Military and civil avionics, Air Traffic Management Systems that support today's growing domestic and international travel requirements, among others are driving force for Thales in India, driven by the purpose to build a future everyone can trust, remain resolute in it's commitment to the 'Make in India' vision of the Government of India. Since inception of  it's operations in the country, Thales is  supporting the modernisation efforts of the Indian armed forces and helping them to prepare, achieve and maintain tactical superiority over any form of threat.
Backed by the rich legacy of close to seven decades in India, Thales continues to innovate and accelerate digital transformation to serve the needs of the Indian market as well as globally.