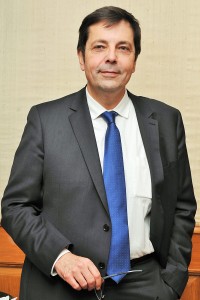 BY Mr. Antoine Caput
New Delhi.
As India, with its third largest armed force in the world, marches towards its goal of self-reliance in defence, Thales continues to lend its support to the country.
The handing over of the first two Indian Air Force (IAF) Mirage 2000 I/TI at Istres, Dassault Aviation's Flight Test Centre, in March 2015 to the Indian authorities signifies the company's commitment to the government's modernisation plans. Since July 2011, Dassault Aviation and Thales have been working together on the Mirage 2000 upgrade programme, in close cooperation with the Indian industry including Hindustan Aeronautics Limited and other private companies, and the IAF.
A world technology leader in the
defence, aerospace, transportation, and security sectors, Thales has been present in India since 1953. Today, it has over 300 employees working with Thales India Pvt. Ltd. – its wholly-owned Indian subsidiary. Thales has been offering a range of platforms and technologies to the IAF, and widely the Indian Armed Forces, to meet their defence requirements and better protect the country. Thales's references for the Air Force include state-of-the-art AESA radar such as Low Level Transportable Radar's GS100; reconnaissance pods Vicon 91; avionics and INGPS for military aircraft such as the Mirage 2000, MIG-21 and 27, SU-30, amongst others. 
Apart from defence, Thales has also proved its mettle in the Indian civil sector – aerospace and ground transportation (metros and railways). The company has the unique capability to design, develop and deploy equipment, systems and services that meet the most complex requirements.
Over the years, India has emerged as one of key growth markets for Thales. As part of its strategy, the company strives to further build its presence in the market by creating and nurturing long-standing partnerships and developing its local capabilities.
Thales's long-term association with HAL and joint ventures with Samtel Avionics Limited, Bharat Electronic Limited (BEL) and L&T Technology Services are in line with the Government's 'Make in India' campaign which envisions making India a global manufacturing hub. Thales and Samtel formed the JV in 2008 to locally develop and produce helmet mounted sights and displays, military avionics and airborne sensor systems for the defence market. Thales's JV with BEL–incorporated in August 2014–is dedicated to the design, development, marketing, supply and support of civilian and select military ground based radars for both Indian and international markets. The company's JV with L&T Technology Services was formed in June 2014 with an objective to develop software engineering activities in India, particularly in the avionics domain.
Thales believes that the 'Make in India' initiative bodes well for the industry, thereby paving way for the country to become a defence exporter. With its "Go to India" approach, the company has also been pooling resources and liaising with the Indian private sector particularly large corporate players and SMEs to build supply chain and technology transfer partnerships keeping long-term value creation in mind for all the stakeholders.
Thales has been relentlessly providing smart technologies and end-to-end solutions that give decision-makers the right information, equipment, control and services they need to make more effective responses in critical environments. The company will continue to provide its world-class and innovative strategies to help customers both in India and abroad to create a safer and a better world.
The author is VP & Country Director – India, Thales