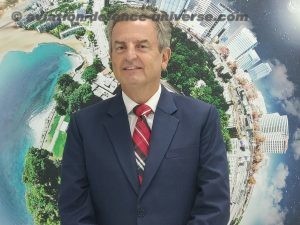 By Emmanuel de Roquefeuil, VP & Country Director, Thales in India
New Delhi. 03 February 2021. As India marches towards its goal of 'Atmanirbharta' or self-reliance, it opens up immense opportunities for local and global organisations across defence and aerospace sectors among others to work together and strengthen the industrial ecosystem in the country.
Backed by its strong presence in diverse verticals like defence, aerospace, transportation and digital identity and security, Thales has been an unwavering partner to India's ambitious plans and growth story by sharing its niche technologies and expertise. As a company driven by its purpose of building a future we can trust, Thales has been striving to closely work with its customers and cater to their requirements with the best possible solutions. Recently, Thales moved to a bigger and smarter India headquarter that also has a bigger engineering centre dedicated to its digital identity and security business in Noida, Uttar Pradesh. This new office is a key stake for Thales in India; it symbolizes the Group's long-term commitment to the country, and demonstrates how Thales is growing bigger and becoming more local here. In its journey of close to 70 years in the country, Thales has built a mature industrial footprint backed by its joint ventures with Bharat Electronics Ltd (BEL) dedicated to radars, with Samtel dedicated to military avionics and Reliance Aerostructure Limited for electronic warfare and airborne radar as well as over 75 supply chain partners, and other industrial partners. The company has also been closely working with Hindustan Aeronautics Limited (HAL) for over five decades.
Thales is a proud member of the Rafale India team. It has also successfully undertaken the upgrade of the Mirage 2000 programme together with Dassault Aviation while working closely with HAL, among other key programmes of the Indian Air Force, Indian Navy and Indian Army. It continues to bring its latest technologies that serve the modernisation needs of the Indian Armed Forces.
Thales also understands the potential and the societal impact of the digital revolution that the world is witnessing. The company's investment of more than 7 billion euros globally in the digital innovations such as connectivity, Big Data, artificial intelligence, and cybersecurity stands as a testament to this belief. These technologies have been supporting businesses and organisations across different sectors in which Thales operates, and also governments in their decisive moments.
Innovation fostered by research and development is a key value for Thales. Its Engineering Competence Centres (ECC) in the National Capital Region and Bengaluru coupled with its tie-ups with Indian academia embody this key value. The Bengaluru engineering competence centre specialises in defence, aerospace, and transportation, and the one in Noida and Gurugram is focused on Digital Identity and Security including cybersecurity, IoT, biometric as well as big data analytics solutions.
Leading through innovation and co-creation, Thales is all geared up to groom the next generation of talented engineers. The company has a resolute to continue supporting its customers' ambitions as they push towards the future, powering the India of tomorrow, today!
Going forward, Thales will continue to develop capabilities for local engineering, procurement from India and strengthen its local partnerships. Building collaborations with the Indian industry and transforming the country into a defence manufacturing hub shall remain a priority of Thales' focus for India.
Plans for Aero India 2021
Thales is enthusiastic about its participation at Aero India 2021. The Show provides an opportunity to Thales to present its flagship capabilities that support the modernisation plans of the country's defence forces. This year, the spotlight will be on Thales' 'Make in India' commitment and contribution towards building of 'Atmanirbhar Bharat' by way of local partnerships and design & development. Visitors at the Thales stand will be able to experience cutting-edge technologies across civil and defence aerospace as well as land and naval defence including its latest airborne surveillance radar, the AirMaster C, for the first time in India.