Quepem,Goa.. March 30, 2016. Textron AirLand is highlighting its Scorpion Jet this week at
Defexpo India. Attendees can view a scale model of the aircraft and talk to company representatives about the Scorpion Jet.
"Textron AirLand's Scorpion is a bold new direction for tactical aircraft and highlighting the aircraft at Defexpo India gives us the opportunity to showcase the Scorpion's flexible multi-mission capabilities to a diverse set of international militaries," said Bill Anderson, president, Textron AirLand spokes person stated,. "The Scorpion is a tactical aircraft that delivers high-end capabilities and performance at a price that completely reverses the rising cost curve that challenges even the most affluent nations to build and sustain their air forces."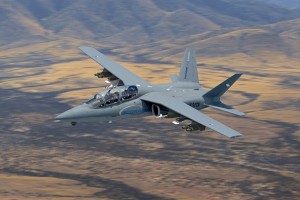 In two years of flight operations, the Scorpion has self-deployed to ten countries, participated in military training exercises and operations, flown numerous U.S. and international military pilots and amassed nearly 600 flight hours. The Scorpion has accomplished all of this with an exceptional availability rating of over 98 percent and a comprehensive cost per flight hour below $3,000, including consumables, system/engine reserves and labor. Using commercial practices, leading edge design technologies and world-class workforce and facilities of Textron Aviation, the Scorpion progressed from a clean-sheet design to first flight in less than 24 months, making it one of the fastest developments of a U.S.-built tactical jet. The first production aircraft is expected to make its first flight this summer, and will be available for prospective customer flights and evaluations soon after.
The Scorpion's modular architecture provides the capability to rapidly reconfigure mission payloads, including sensors and weapons, enabling one aircraft to master diverse missions yielding significant acquisition cost savings, operation flexibility, reduced logistics footprint and training benefits. The Scorpion excels in many roles, including armed reconnaissance, maritime control, close air support, intermediate and advanced jet training, strike, and
intelligence, surveillance and reconnaissance for humanitarian assistance and disaster relief.
The Textron AirLand Scorpion was introduced in 2013 and has completed several hundred hours of flight testing with an exceptionally high mission availability score. Scorpion is a highly affordable, multi-mission aircraft offering diverse capabilities including intelligence, surveillance and reconnaissance, humanitarian assistance, disaster relief, advanced training and precision strike. Aircraft features include twin-engine power, tandem cockpit, large internal payload capacity, high-definition ISR cameras, wing-mounted weapons stations, modern avionics, all-composite structure and more.